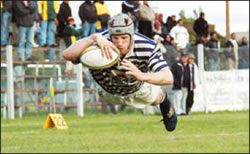 High-flier: John Bradshaw, here scoring against Bellville Tech, has helped the UCT revival.
It was crunch time for administrators at the UCT Rugby Club at the end of the first half of the 2005 season.
The FNB UCT first team was bringing up the rear on the Western Province Super League A log, thanks to an eight-game losing streak. And were their flagship team to be relegated, the club's second - well set to win the second league title - and third teams would, performances notwithstanding, be dropped down a division as well.
That prospect was simply more than the club could stomach.
So club president Dugald MacDonald, a former Springbok, put out a few feelers. Specifically in the direction of former Stormers coach Alan Solomons, who had an open few weeks in his diary, and another former Springbok, Robbie Kempson, both with ties to the UCT club.
Solomons and Kempson agreed to take charge of the first team until the end of the 2005 season, while also making inputs into the second team.
Solomons, who has some time on his hands before he returns to the UK, says that coming back was an easy decision once he received a call from MacDonald, an old friend from his student days at UCT. Solomons was, after all, club captain of the UCT rugby club from 1972 to 1975, coached here for a good 25 years, and is also an honorary life vice-president of the club.
"Because of my long association with the club, I wanted to do my best to help them out of a difficult situation."
As requested, Solomons - coming in with a "fresh pair of eyes", according to manager John le Roux - rang in quite a few changes once he got here. He swapped players around, and zeroed in on critical areas - conditioning, set pieces and defence. (There's even a Sunday-morning pool session at the Sports Science Institute, so no sleep-ins the day after a match.)
At the same time, other members of the club had been scouting around for available talent - preferably former players - to beef up the squad. Among those rounded up were speed merchant John Bradshaw, back on a break from studies at Exeter College, Oxford University, where he's also been a try-scoring sensation, and former Western Province fly-half Gareth Wright.
"Everybody at the club sat down and asked how we could best try to avoid relegation," says Spencer King, director of rugby at UCT. "Obviously it was important that we strengthen the team."
The input of Solomons and Kempson, along with the new players, paid off. The team won three matches on the trot, which included an away victory against Bellville Tech, a notoriously tricky outfit.
Solomons is pleased as punch about the response of his young wards, who were down in the dumps after their performance over the first half of the season.
"My approach was that it's no good dwelling on what's happened, we've just got to get on with the present," he says. "The response from the players was very positive, which made my job a lot easier."
It's been a revelation for the players, too.
"We're the most professional the club has ever been," says captain Danny Palm, who took over the reins from Dave Ricketts. "And it's a whole new experience, and just sort of made the guys realise how much they could learn from Solly and Rob Kempson - it's a once-in-a-lifetime experience."
There's also been a shift in the pre-match mood in the changing room.
"The guys are much more confident," says Palm. "Before, we'd go into a game and think that maybe we could sneak in a win.
"Now it's more like, losing is not even an option."
---
This work is licensed under a Creative Commons Attribution-NoDerivatives 4.0 International License.
Please view the republishing articles page for more information.
---