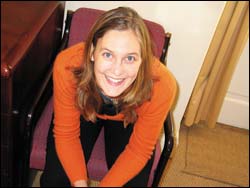 Drama student Janni Younge.
For second-year MA in theatre and performance student Janni Younge, communication is all about speaking through visuals.
"I call it puppetry in the broad sense of the word," she explained. "Puppetry for me is a form of theatre where objects and images are used to form an important part of the narrative. It is the way in which words can be communicated through objects."
With a background in fine art, Younge is also interested in the dynamic between object and person.
"My interest in sculpture was always about communication - creating a form that says something to someone out there. But in a theatre space the elements of time and relationships are added. The object builds a relationship with other objects and with the performers, and transforms from one moment to the next."
Having spent three years at the French National School of Puppetry (just outside of Paris), Younge was part of a cohort of only 20 students taken in every three years to be taught by professionals from around the world. Through a series of continuous workshops, students are taught how to use objects for adults in contemporary theatre.
"At the end of the programme I felt like a balloon filled with water - I didn't know what shape I was taking," Younge said.
Wanting to develop and understand the nature of her work in a secure and supportive environment, while obtaining feedback from academic expertise, Younge looked to the UCT master's programme.
"It's also a good way to get to know and interact with people in the field and develop my theoretical background," she added.
Younge's comedy Elise's adventures in Congoland recently appeared at the Grahamstown National Arts Fringe Festival. It tells the story of a neurotic white Capetonian woman who decides to make a documentary on refugees to prove her African identity.
Younge recounts the plot: "After unsuccessfully interviewing a refugee (she's simply out of her depth), Elise falls down a long drop and literally finds herself in the poo. The rest of the performance happens in shadow as Elise is in a different world and has to confront her own ignorance. She needs to apologise and ask for help if she is to regain her physical form.
"With Elise I was inspired by layering of meaning and images, and how this can create a communication that is not tightly controlled. It's about dealing with our own shadows and underlying fears - all those things we don't want to face."
Younge was nominated for a Fleur de Cap award for her puppets in Magnet Theatre's The Fire Raisers, and is currently curating an exhibition of Malian puppets from the Coulibaly family collection. It is titled Patrimony and is on at the Gold of Africa Museum until August 20.
---
This work is licensed under a Creative Commons Attribution-NoDerivatives 4.0 International License.
Please view the republishing articles page for more information.
---