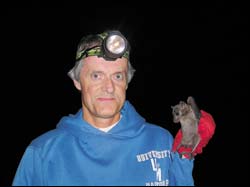 Prof Robert Barclay with one of the pesky Egyptian fruit bats.
For some time now, residents in Newlands and surrounding suburbs have had to take a lot of, well, poo from the colony of Egyptian fruit bats that live in the nearby mountains.
The bats, Rousettus aegyptiacus, are, first of all, a nuisance, defecating on houses and cars that need constant scrubbing. And should the watery faeces not be cleaned up immediately, it can become acidic and eat away at the paint.
"The main problem is that the walls on people's houses look a real mess," says Associate Professor David Jacobs of the Small Mammal Research Unit (SMRU) in the Department of Zoology. "People literally have to paint their walls every year, but soon after they've painted, the bats come back."
Understandably, it's a problem home- and car-owners would like to see go away. Residents may be making their own beds, however, a recent UCT study by Professor Robert Barclay, who has just finished his sabbatical at the SMRU from the University of Calgary in Canada, has found.
To doll up their gardens, many residents have been planting some exotic fruit trees, like those that carry tasty figs. In addition, city councils have kindly been laying yellowwood trees - the fruit is another bat delicacy - along the side of the road.
When their natural supply of food in the indigenous Afromontane forests on the slopes of the mountain above Newlands run out, the bats are forced to venture further afield in search of victuals. Barclay tracked the bats at night - when they feed - and found that they actually prefer to stay in the forests. However, these forests are dwindling as a result of urban sprawl.
"So, whenever these exotic trees in gardens come into fruit, it's like a magnet."
Many residents do not want to harm the bats - which are protected by law and are important in dispersing the seeds of native trees - but would like to keep their fruit trees, says Jacobs, who fields countless calls from people. That's not possible - to protect the bats and indigenous forests, they have to get rid of the trees or the fruit.
"You can't have both," he says.
The researchers have written a report to that effect to the Table Mountain National Park.
---
This work is licensed under a Creative Commons Attribution-NoDerivatives 4.0 International License.
Please view the republishing articles page for more information.
---