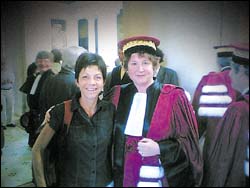 Profs Jennifer Thomson (right) and colleague Jill Farrant of the Department of Molecular and Cell Biology following the ceremony at the Sorbonne.
Professor of molecular and cell biology and genetically modified organisms (GMO) expert Jennifer Thomson has received an honorary doctorate from the Sorbonne University.
Delivering a tribute to Thomson, cell biologist Professor Jean Chambaz, of the college of doctoral schools at the University Pierre and Marie Curie, sketched the historical and academic milieu in which the microbiologist had earned her stripes. Referring to apartheid, which UCT academics like André Brink had revealed through their writings, Chambaz said Thomson had broken through academic isolation to develop contacts with other institutions and had enrolled black students "to prepare an as yet uncertain future".
"What optimism!" he commented.
Committed to agricultural biotechnology, Thomson, he added, had not chosen an easy path, working variously at the University of Witwatersrand, the Council for Scientific and Industrial Research and UCT, on problems that beset the African continent, plagued by drought and famine.
"Here is where your training reveals its consistency, far from a dogmatic and limited vision of biological disciplines, on the contrary, integrating physiology, microbiology, genetics and cell biology to experience the adventure of transgenic plants, where you acquired a worldwide reputation that, among other things, culminated in your being awarded the L'Oreal/Unesco prize for women in science last year."
Chambaz lauded Thomson for her work in rendering maize resistant to the maize white line mosaic virus and Xerophyta viscosa, the resurrection plant, which "resurrects" itself following periods of drought, this only days after rainfall. Thomson and her research group identified a number of genes responsible for this characteristic and transferred these to maize to make the plants more resistant to drought.
He said that Thomson, aware of the polemic surrounding GMO, had employed her expertise in this area to participate in international meetings of the World health organisation, the OECD, the European Union and the African Foundation of Agricultural Technology, founded in June, 2004.
Chambaz also commended her role in local scientific organisations designed to encourage women in science: the Society for Women in Science and Engineering and the Committee of the Academy of Sciences for the education of African women and girls.
---
This work is licensed under a Creative Commons Attribution-NoDerivatives 4.0 International License.
Please view the republishing articles page for more information.
---