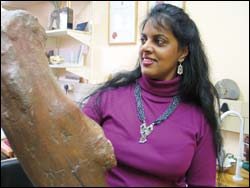 Going up: Prof Anusuya Chinsamy-Turan, winner of South Africa's premier accolade for achievement by women, the Shoprite Checkers/SABC2 Woman of the Year award. She also won the Science and Technology category.
One would never guess from Professor Anusuya Chinsamy-Turan's list of scientific achievements that she had a difficult start to academia.
The prejudices she encountered in the 1980s gave her a slower start than one might have expected of a multi-award winning scientist, but by third year she was pulling well ahead. And once she discovered palaeontology in an honours module, she was on her way.
The P-rating she received from the National Research Foundation in 1996 was a clear marker of bigger things to come. And with the B1 rating conferred last year, she is edging towards the top strata of rankings.
Perhaps the early handicaps also shaped her own attitudes as a teacher over the past 17 years. Following her Woman of the Year award from Shoprite Checkers/SABC 2, awarded on July 28, there are flowers and congratulatory messages in her office (and reporters waiting in the tearoom). Students knock at the door to wish her well.
"I think I'm approachable. That's what they're looking for," she muses. Teaching is one of her strengths and beyond her home in the zoology department, she's ploughed this nurturing into external organisations like South African Women in Science and Engineering (Sawise), which she chairs. One of the thrusts is to encourages young women to study science and engineering.
There's no doubt that Chinsamy-Turan is experiencing a springtide in her career, a timely confluence of research, outreach and publication. The past two years have brought a string of other awards and recognition. She was inducted as a UCT fellow last year, an endorsement by her peers, all highly-regarded researchers. Last June she was named senior black female researcher in the Science Oscars, the National Science and Technology Forum awards, and is a finalist in the upcoming DST 2005 Distinguished Women Scientist Awards.
The recent publication of her book, The Microstructure of Dinosaur Bone, caps it all, the first study of its kind, synthesising more than 150 years of research into the composition of dinosaur bone and its transformation after death and fossilisation.
The book was a milestone ("really, really difficult to finish") in a schedule that leaves little room for anything but teaching, researching and her outreach work.
A reviewer in Trends in Ecology and Evolution describes the work as "an immense service to the field". For eons, clues to the biology of dinosaurs have been locked in the microscopic structure of their bones.
Though there are relatively few palaeohistologists (people who study fossil tissue), new studies are being unveiled all the time. With a growing array of samples available, researchers in the mould of Chinsamy-Turan are able to study the records of the original tissue preserved in dinosaur bones, right down to the cells and "beyond the resolution of computed tomography scanners".
"We've just begun to scratch the surface," she comments.
Working with very thin sections sliced off the bone, the cross sections are examined under microscope, providing the histological clues that will tell her how - and how fast - the animal grew.
Fast-growing bones, such as those found in the Tyrannosaurus rex, show markedly different texture to the bones of slower-developing animals, with fewer blood vessels and a finely layered appearance. Bone-based growth curves evident in Tyrannosaurus rex, for instance, show why the animal towered over other dinosaur relatives.
It's a tricky field. Dinosaur bones sometimes show lines of arrested growth (Lags), which are like those of more slowly growing reptiles, but other features suggest that they grew rapidly. Like other animals, dinosaurs dissolved primary bone to bump up their calcium supply, or to repair microfractures, depositing secondary bone. Essentially, this erased the dinosaur bone's early history.
She's tickled by one reviewer's last line on her book: "I couldn't put it down until I finished it." Unusual praise for an academic study.
"I get quite excited about the potential of using bone microstructure to flesh out the ancient animals and make them more real," she said in Science, in an article Dinosaurs Under the Knife (306 (5698); 962).
She's keen to write another book, a popular work, this time on African dinosaurs to close a gap in the market. It will be aimed at children. She'll need all the months of sabbatical she has accumulated over the years.
"Books on dinosaurs tend to be American works,' she comments. "South Africans don't know how valuable their own heritage is. We're rich in fossils."
Chinsamy-Turan's passion for science communication is mirrored in many of her outreach activities. Though her work as chair of Sawise has been well publicised, few people know she took leave of absence to put her creative energies into tuning around Iziko Museums' South African Museum in Cape Town, an underutilised resource in terms of science communication.
In her 18 months as director of the Natural History Collections division Chinsamy-Turan rolled up her sleeves and presented five lively exhibitions that created rich resources for public exploration and discovery.
"The days of static displays are long gone."
Like dinosaurs.
---
This work is licensed under a Creative Commons Attribution-NoDerivatives 4.0 International License.
Please view the republishing articles page for more information.
---