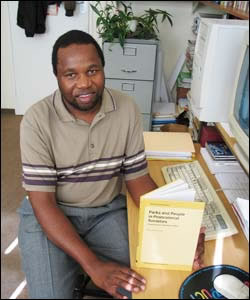 Colonial remnants: Dr Maano Ramutsindela's new book Parks and People in Postcolonial Societies: Experiences in Southern Africa, looks at the legacy of colonial thinking in creating national parks.
P-rated researcher Dr Maano Ramutsindela's new book, Parks and People in Postcolonial Societies: Experiences in Southern Africa, published by Kluwer Academic Publishers, examines some pertinent issues around our national parks, born out of the old colonial system and reflected in examples in our neighbouring countries.
"The post-independence scenario is that people are still being removed from the land in different ways to provide for protected areas, continuing the colonial legacy," says the researcher from Environmental and Geographical Sciences.
The book raises some important questions for researchers, not least of which is the way authorities have failed to deal with the dichotomy between society and nature.
"There is a colonial presence in contemporary national and transfrontier parks," he says.
Set against the background of colonial and postcolonial experiences, Ramutsindela's volume draws on many examples from national parks in southern Africa. He shows that the power relations and stereotypes embedded in the original national park idea are a continuing reality of contemporary national and transnational models.
"The book explores this continuity against the backdrop of both environmental history and the claims of the new nature conservation philosophies and practices. The aim is neither to rewrite the history of national parks, nor to retell the story of each national park in the region. Rather, it is to acknowledge that each national park has its own story, which can be woven into a common narrative of people and parks. Indeed, it is in the stories of the various national parks that fundamental similarities can be found."
For those removed from the land to make way for parks, there was the question of having to absorb western concepts of nature.
"They were forced to observe relations between society and nature in ways that were, and still are, alien to them."
National parks, he adds, emerged from western views of nature that contrasted sharply with those of non-western societies.
Western society, by and large, has promoted a dual view of society and nature.
"This is evident in education systems, which have tended to normalise the division between natural and social sciences. The consequences of this have been that even those subjects, such as geography, which remains one of the few subjects dedicated to exploring the relations between society and nature, have reinforced the society-nature separation by maintaining the dichotomy between human and physical geography. Moreover, the gap between human and physical geography is growing apace."
---
This work is licensed under a Creative Commons Attribution-NoDerivatives 4.0 International License.
Please view the republishing articles page for more information.
---