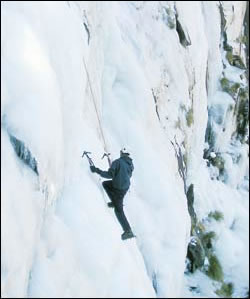 Ice climbing: Twelve climbers from the UCT Mountain and Ski Club will head for Patagonia in November to map some uncharted territory on ice-and snow-bound mountains and lakes. (The UCT Mountain and Ski Club is the largest and most active sports club at the university and the third biggest mountaineering club in South Africa.)
Covering one third of Argentina, Patagonia is a long way south, an area with a sparse 1.5 million inhabitants living between the Atlantic coast and the Andean cordillera, or chain of mountains.
Andean Patagonia lies in the extreme southwest of Argentina and was named Patagonia by Portuguese explorer Ferdinand Magellan in 1520 when he saw the local Tehuelches natives wearing special big shoes to protect them from the cold.
Big shoes are what 12 UCT Mountain and Ski Club members will need (and throw in plenty of snow and ice gear, which has been sponsored, fortunately) when they tackle their own Patagonia Expedition between November and January next year.
The region is home to 11 national parks, all with deliciously Latin-sounding names - which is probably as warm as it will get. The mountains are renowned for their "immaculate big walls".
The team will target the north Patagonian Andes, a wild and seldom-visited area of Argentina, home to Lago Cholila, a remote lake surrounded by mountains and glaciers, the focus of the expedition. The highest peaks in this area are Cerro Dos Picos (2 530m) and Cerro Tres Picos (2 492m).
In addition, there are many smaller unnamed and unsummited peaks, with great scope for ascents on rocks, snow and ice, says expedition member Richard Halsey.
The team's plan is to investigate unexplored areas; bring some skills and experience back to South Africa.
"Besides summiting Cerro Tres Picos and Cerro Dos Picos, we plan to do Alpine mountaineering in this region and investigate some unexplored areas, hoping to summit smaller, unexplored peaks." Halsey is doing his master's in molecular biology, specifically HIV vaccine development. Many of the students are postgraduates - together they have an extensive range of climbing experience. Halsey has hiked and climbed in Australia, Thailand and Namibia, travelled though Israel, the United Kingdom, Malaysia, Botswana and Zimbabwe.
"We don't know exactly what we're going to find," Halsey says. "We don't know how hard it's going to be."
For a climber, this is where the allure lies. There's also very little there by way of infrastructure. There is nothing in the area ("Well, except some llamas maybe," Halsey quips), which means they will have to find inventive ways of transporting a month's worth of provisions and their gear, sponsored by RAM Mountaineering (Black Diamond, Beal and Saltic) and Cape Storm.
"The logistics are tricky," Halsey confirms. "The MSC has not attempted anything on this scale for over 20 years."
They will fly to Beunos Aires and work their way south by train. Working from a base camp at Lago Cholila, the group will divide up into smaller teams, each with a mission to climb or hike specific routes and areas, and to document these.
Facing what Halsey describes as "some of the worst weather in the world", the safety factor will be paramount and team members know they will have to be equipped to deal with emergencies.
Fortunately, Antony Hall and teammate Ake Fagereng (BSc Hons geology) have worked for the Mountain and Rescue Club. Team member Craig Peters (BSc electro-mechanical engineering), among others, has level three first-aid training; Shachaf Polakow (BSc zoology) has army medic training and Sally-Anne Barber is studying physiotherapy.
Logistics aside, some are thinking much further ahead. Says Fagereng: "The Patagonia trip will be a new experience to build a base for future expeditions."
In Fagereng's mind he's been and gone and going again. The short bio on him probably hints why: he has won the Hong Kong Four Peaks Race and the Hong Kong orienteering champions league and came in the top three in the National Geographic Action Asia Challenge.
(Picture by Chris Ladler.)
---
This work is licensed under a Creative Commons Attribution-NoDerivatives 4.0 International License.
Please view the republishing articles page for more information.
---