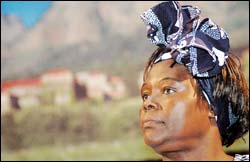 Out of Africa: Nobel laureate Prof Wangari Maathai encouraged those at the VC's Open Lecture to do their bit for the environment and Africa.
It would be trite to say that the naming of Kenyan environmentalist Professor Wangari Maathai as the winner of the 2004 Nobel Peace Prize raised a few surprised eyebrows. On the surface, Maathai and her Green Belt Movement, the grassroots organisation that has planted some 30-million trees in her home country while providing jobs for more than 100 000 people, mostly women, had few Peace Prize credentials. But as Maathai explained in her winning Vice-Chancellor's Open Lecture at UCT last week, it's a small step from caring about the environment to caring about humans. Maathai's legacy is all about making such "linkages", after all. The first, and the one that gave birth to Green Belt, was between the rampant deforestation of Kenyan land in the 1970s and the hardships of the countless women who lost everything from firewood to clean drinking water to income as a result. In no time, Maathai and Green Belt tied the deforestation to self-serving state policies, dots that the government of Daniel arap Moi, who once famously branded Maathai as "a threat to the order and security of the country", didn't like her connecting. She also realised that the fighting between warring farmers could also be linked to environmental issues. "When you look closely at the issues, you see that it is . . . the scarcity of resources that bring these conflicts," she said. Maathai talked about the requirements for peace in Africa, listing essentials like democratic spaces, a desire for that peace, and the scrapping of African debt. She also had a few tips for those who want to do their bit for the environment - plant 10 trees to reduce the levels of carbon dioxide, and practice what the Japanese refer to as mottainai (reduce, re-use, and repair and re-use). In her take-home message, Maathai urged her audience to, like the hummingbird in the Japanese tale who, drop of water by drop of water, single-handedly tried to put out a forest fire in the face of ridicule from the other animals, simply do the best that they can. "That is all we can be called to do," she closed.
Before delivering her lecture, Maathai, Kenya's deputy minister of environment, also paid a short visit to the wild pear tree, Dombeya rotundifolia, that the UCT-based Kenyan Students Community had planted in her honour at middle campus residence All Africa House last year. Maathai's stopover at UCT was arranged by Dr Merle Sowman and Rachel Wynberg of the university's Environmental Evaluation Unit. Maathai's talk was the first in the Vice-Chancellor's Open Lecture series, which aims to celebrate excellence in Africa.
---
This work is licensed under a Creative Commons Attribution-NoDerivatives 4.0 International License.
Please view the republishing articles page for more information.
---