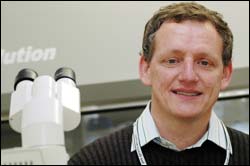 Team-minded: Prof Willem Hanekom and colleagues from Stellenbosch and elsewhere are ganging up on TB.
A US$13-million grant from the Bill and Melinda Gates Foundation will see the Universities of Cape Town and Stellenbosch become members of an international consortium that will identify the immune-defence mechanisms responsible for protection against tuberculosis.
The researchers will attempt to identify immune-system differences between people who are exposed to tuberculosis but never become sick (those who are naturally protected against the disease) and those who develop serious disease (those who are not protected against the disease). New knowledge of biomarkers of protection is needed for the rational design and clinical testing of an improved vaccine against tuberculosis.
The project will be coordinated by Professor Stefan HE Kaufmann of the Max Planck Institute for Infection Biology in Berlin, Germany. The UCT effort will be directed by Associate Professor Willem Hanekom, laboratory director of the South African Tuberculosis Vaccine Initiative at the Institute of Infectious Disease and Molecular Medicine (IID
), and the University of Stellenbosch effort will be directed by Associate Professor Gerhard Walzl.
Despite effective drug-treatment strategies for tuberculosis patients and the widespread use of the available vaccine Bacille Calmette-Guérin (BCG) in infants, the enormous reservoir of latent tuberculosis that keeps perpetuating the epidemic has not come under control. A novel vaccine is expected to become the most cost-effective measure of tuberculosis control and will complement current drug-treatment strategies.
However, the major roadblock in the development of new tuberculosis vaccines is the lack of understanding of what constitutes protective immunity. Insights into the mechanisms of protection and disease progression will lead to the definition of biomarkers that can predict whether a new tuberculosis vaccine will be effective. The project consortium will apply sophisticated molecular and immunological tools to study immune responses against the tubercle bacillus during natural infection in endemic populations in Africa, the impact of progressive HIV-1 infection, and its treatment and changes during vaccination with BCG and novel vaccine candidates.
The consortium consists of 15 laboratories in Africa, the USA and Europe (Germany, the Netherlands, UK and Denmark) and will concentrate its work in five different tuberculosis-endemic countries across the African continent (the Gambia, Ethiopia, Uganda, Malawi, and South Africa). The participating researchers will combine multiple scientific disciplines, including clinical sciences, epidemiology, microbiology, genomics, as well as molecular and cellular immunology.
---
This work is licensed under a Creative Commons Attribution-NoDerivatives 4.0 International License.
Please view the republishing articles page for more information.
---