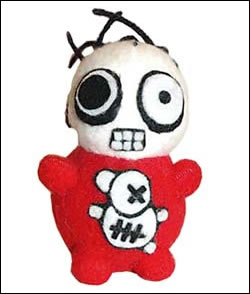 Natasha Norman reviews the Fantastic Kill Mega Event held at Michaelis School of Fine Art.
Cow is dead. Magpie has a bloody smile and looks at Cow with a devilish grin. The author of this devastation is Wadkin Tudor Jones (previously of Max Normal) who brought this mutilation to audiences at the Fantastic Kill Mega Event at the Michaelis School of Fine Art on June 3. The event began with an exhibition opening of Jones' toy sculptures Animals (featuring poor Cow and the notorious Magpie) followed by a screening of short films from his DVD You don't have to be evil to be cool. At a neighbouring venue the evening continued with a live performance of Jones's new rap album The Fantastic Kill, along with guest performances by Jones' favourite DJs: Neon Demon, Jakobson and Mr Sakitumi, as well as fellow rapper Spoek Mathambo. The event was a showcase of Jones' dabblings in contemporary culture for which he has created his own company, Fantastic Kill Entertainment.
The personal touch of Wadkin Tudor Jones pervaded the entire evening. The Animals sculptures at the gallery opening were each hand-crafted by the artist, with names and stories printed in Jones' own spidery script. Instead of the usual wine and snacks, tea and cakes with images of the furry hell toys on them were served. The most personal of all had to be the video footage of the caesarean birth of Jones' daughter, Sixteen. Jones demanded our attention at each stage in the event like a birthday boy hosting a party. DJs at the concert after the gallery opening were introduced by Jones as 'my favourite'. He carried the crowd in the palm of his hand during his live performance, even demanding a test-run crowd surf before performing his smash-hit single Super Evil.
Jones' career as a rapper could be confused with Eminem's 8 Mile. In the late 1980s he braved the black underground rap scene in Johannesburg where he earned the respect to emerge with his life intact and the title 'SA's illest MC' bestowed on him by a British magazine. He has since worked on albums with the music group Max Normal and recently returned from a European tour with DJ F**k, with whom he has worked on his new album The Fantastic Kill. Jones began crossing the boundary into the art scene with a solo show at the Bell Roberts Gallery last year where he exhibited his Animals range of stuffed felt creatures which, despite their cuddly appeal, have sinister natures. He first worked with Andrew Lamprecht, lecturer at Michaelis, when he took part in a Klein Karoo Nasionale Kunsfees (KKNK) exhibition curated by Lamprecht in April this year.
The Fantastic Kill event was a joint curatorial venture between Lamprecht and a group of third-year Michaelis students completing a curatorship course at the school. Lamprecht said his role in the project was essentially one of workshopping students' ideas and facilitating negotiations between students and the artist. Jones had a very clear vision for the realisation of the event, and students that participated in the course all commented on their appreciation of the practical experience the project afforded in the form of negotiating press releases, preparing exhibition spaces and realising marketing campaigns.
Jones' persona engages audiences as though everyone is a long-lost friend at a private party and it is this personal touch, without a hint of farce or irony, that works on a basic level to subvert mainstream cultural references in his work. The outrageously ugly music stars in his videos make very clear his criticism of slick commercial hip-hop and the slavery of the masses to ideas and images communicated through the media. His lyrics shout out against this as well, aggressively lambasting listeners in both English and Afrikaans for selling out to corporation marketing. The very use of the term 'evil' in this exhibition is recognised by Lamprecht as a more overt subversive agent in Jones' self-professed agenda of 'Pop Terrorism'. In a recent UCT Radio interview, Jones identified his actions as crossing from fine art to popular culture because he doesn't really see a difference between the two. Lamprecht identifies this as the new debate in art circles and part of a new approach where art is not demarcated or separate from other culture producing industries. Referencing a conversation with Rosa Martinez at the Venice Biennale, Lamprecht says the question to be asked today is "where does art stop?" In Jones's case there seems to be no limit to where music ends and art begins.
---
This work is licensed under a Creative Commons Attribution-NoDerivatives 4.0 International License.
Please view the republishing articles page for more information.
---