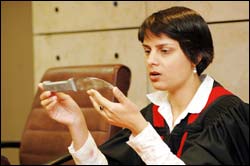 Twisting the knife: Magistrate Mas-udah Pangarker picks holes in students' arguments at the recent mock trials hosted by the Legal Aid Clinic.
Before they went into the Moot Court for the first of a recent series of mock trials hosted by the UCT Legal Aid Office, the law-clinic students were racking their brains.
Over evidence they had to present? Or a witness they had to grill?
Neither, actually. The big question on their minds was how to address real-life magistrate Mas-udah Pangarker, who was presiding over the event. Ms? Mrs? Muh Lord?
The answer, they soon discovered, was "Your ladyship", or even "Your worship".
This was but the first of many handy does and don'ts of court etiquette the students picked up over the week of mock trials, which have become a feature of law studies at UCT. Here, students go head to head with classmates, making opening arguments, presenting their cases, interrogating witnesses and the like. Usually, though, it's in a safe environment where lecturers play magistrates or judges.
Getting an actual magistrate like Pangarker - voted 2004's best by the Judicial Commission - just ups the ante a notch, says Ronan Hall, senior litigation attorney at the Legal Aid Office. "It makes it hip and vibrant."
And infectious. Other magistrates are beating a path to Hall's door to volunteer their time and services. And organisers of the annual Moot Court competition are hoping to woo real judges to oversee their event.
The law-clinic students enjoyed the experience, but were a tad nervous at the sight of Pangarker at first. "I think the first person to speak must have been very tense," says Shameena Mowzer.
Usefully, Pangarker, after making her judgement, also gave the students feedback on their presentations. Some felt she may have been a bit strict on the newbies at times though.
"She could have cut us some slack, hey," offered Jeannette Safi.
---
This work is licensed under a Creative Commons Attribution-NoDerivatives 4.0 International License.
Please view the republishing articles page for more information.
---