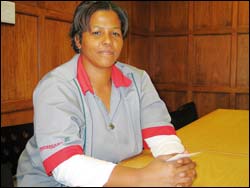 Poetic staffer June Herman.
A poignant poem detailing her love and appreciation for her mother has not only revealed June Herman's hidden verse-making talent, but has also won her heaps of prizes.
A Supercare cleaner in the health sciences faculty, Herman penned a moving poem about her mother and entered it into the Metro Burger's Mother's Day competition.
"My mother brought me up on her own and she taught me about love and respect. I wanted to tell her how much she meant to me," Herman explained.
"But I was very surprised when I found out I won. I have never won anything before."
Herman was one of 20 winners who walked away with pamper and meal vouchers as well as movie tickets - these were conveniently used as Mother's Day gifts.
"I have always loved poetry and writing stories. I like imagining myself in another world and then writing about it. When I was in school I would always do my brother's writing homework for him."
Herman said although she has never received any formal writing training, her skills have developed because she reads a lot.
"I read anything I can get my hands on and this is how I learn," she added.
For now the wordsmith is concentrating on her next project - a poem for a Father's Day competition.
June Herman's poem to her mother:
Your love and direction have helped me more than you will ever know.
You have brought me up so lovingly with so much thought and care.
Without your love mother my life would not have been complete because you have taught me the meaning of love.
Your love is like a garden reflecting tender care for wherever there is beauty your love is there.
You've given love and so much more that I am very thankful for and from the heart I do agree you're all a mom is meant to be.

---
This work is licensed under a Creative Commons Attribution-NoDerivatives 4.0 International License.
Please view the republishing articles page for more information.
---