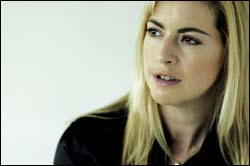 Finance lecturer and Financial Diaries director Daryl Collins.
The groundbreaking Financial Diaries project at the Southern Africa Labour and Development Research Unit (Saldru) at UCT is accurately tracking the money-saving strategies of South Africa's poor for the first time and finding how these are constantly under threat from outside forces.
UCT finance lecturer and Financial Diaries director Daryl Collins, a former Wall Street economist, launched the first wave of results from the 28-month-long study in Johannesburg last Tuesday, and at the GSB in Cape Town on Thursday. The project has already attracted widespread interest from the media and the banking sector.
For 18 months, the Financial Diaries team has been documenting the daily money-management decisions made by 160 households in Langa in the Western Cape, Diepsloot in Gauteng and Lungangeni village in the Eastern Cape.
Collins explains: "Apartheid left South Africa with two economies in one."
Although tackling this Third World economy ranks high on the to-do list of the South African government, information about it is scanty. One of the problems is distrust.
The researchers returned to their quota of households every two weeks for 18 months to track the ebb and flow of finances - and to get the most accurate information possible.
"People were suspicious," admits Busi Magazi, a fieldworker who concentrated on 33 homes in Lugangeni village outside Mount Frere. "With the men it was a bit difficult because normally they don't even discuss their money with their wives or their close relatives."
As the study progressed, some common themes emerged. Funeral costs are a "very big" issue. Magazi notes: "If you can't afford a burial society, then you are considered very, very poor. Most people belong to two savings schemes - one for groceries, one for the coffin."
Collins comments: "Our research indicates that people are prepared for their own death, and for the deaths of their immediate family. But people are constantly being hit for money for distant relatives who die. Ninety percent of the sample in the rural areas had to reach into their pockets to contribute to the funeral of a family member outside the household at least once during the study. Eighty percent had to do so at least twice."
The situation was so dire that the researchers sometimes had trouble interviewing people because they were out at funerals so often.
"In the urban areas, people aren't asked to help out as often but they're asked for larger contributions," says Collins. "And this interrupts their cash flow and means they can't plan."
Another common theme centres on debt. Middle-class South Africans rely heavily on bank overdrafts and credit. Rural South Africans also rely on informal lines of credit at the local spaza or with better-off neighbours, or use stokvels.
"Saving for Christmas is extremely common," reports Collins. "Stokvels save for a particular thing or a specific occasion. They're not there for just a rainy day. That's one of the things missing from the financial portfolios of these households - it is very difficult to save for an unexpected crisis."
For more information on the project, visit www.cssr.uct.ac.za or FinancialDiaries.com
---
This work is licensed under a Creative Commons Attribution-NoDerivatives 4.0 International License.
Please view the republishing articles page for more information.
---