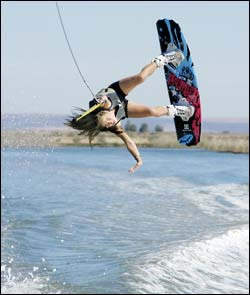 UCT wakeboarder Hailey Koch comes in to land after a tantrum manoeuvre.
Wakeboarding is not for the fainthearted.
Recently introduced to the world's lakes, rivers and dams, this board sport merges elements of waterskiing, snowboarding and surfing. Like waterskiing, the rider is towed behind a boat, typically at slower speeds, using the wake to create the momentum for some rather athletic-looking, gravity-defying tricks.
"What qualities does a wakeboarder need?" is the question put to Hailey Koch and James Carr, two members of the UCT Waterski Club. They hesitate, choosing their words. Pencil quickly in the margin: stamina, strength, bravado, death wish.
The latter is suggested by a picture of Koch. It's audacious to say the least. Airborne, the manoeuvre is called a tantrum. She has cut hard at the wake, arched her body, thrown her head back and flipped backwards. Neat.
Koch does this at 22 miles an hour with her feet strapped to a board. It is an extreme sport and as people often "pop" their knees jumping high and then hitting the water hard, knee braces are common.
"There is some risk factor," the first-year film-and-media student confirms. But she played hockey for a long time and saw nothing worse on the field, injury-wise.
The hazards don't stop the acolytes. Wakeboarding is one of the fastest-growing water sports in the world. The UCT Waterski Club, which operates at Zeekoevlei five times a week, offers the equipment: bindings, strappings and boards (these come in carbon fibre, graphite or wood), which can be pricey.
Koch was placed first in her division at the Quaggas Extreme wakeboarding championships and third in the open women's division in the Western Province championships. Carr, who began the sport as a five-year old with his father, Springbok Butch Carr, made a respectable fifth in the slalom event at the Western Province waterski championships. The third-year business science student represented KwaZulu-Natal in 2002 and Province in 2005.
The club has five or six members who wakeboard and ski at a competitive level. Others are beginners.
"There is a category for everyone," Carr adds.
If wakeboarding isn't for you, try barefoot skiing.
"It's relaxed, fun and sociable," Koch says of the club's activities.
There's plenty of sport in that.
---
This work is licensed under a Creative Commons Attribution-NoDerivatives 4.0 International License.
Please view the republishing articles page for more information.
---