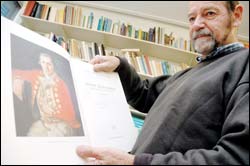 Pacesetter: Assoc Prof Andrew Smith.
It is recorded that when he heard of the death of Robert Jacob Gordon, explorer and commander of the Dutch garrison at the Cape until just before his suicide in 1795, Rear Admiral Stavorinus of the Dutch navy expressed his hopes that Gordon's demise "will not deprive the world of the invaluable results of his researches, and that, in whatever hands they may be, they will not be consigned to oblivion, or withheld from the public".
Talk about your commentator's curse.
Gordon's atlas - his more than 450 hand-drawn maps and faithful sketches of the plants, animals and people he encountered during his fact-finding travels into the South African interior - had been in safekeeping and pretty much in plain sight for most of the past 200 years. It currently resides in the Rijksmuseum in Amsterdam in the Netherlands.
Not so, though, the journal in which Gordon, who later had Gordon's Bay named after him, recounted in "straight-down-the-line" prose four of his five expeditions. That precious document dropped off the radar for more than 150 years after Gordon's death, and only materialised again in England in the mid-1960s. It has since made its way to the Brenthurst Library in Johannesburg.
But other than a 1988 English translation, Gordon's journal has, even after its long absence, not received much airtime. Until now.
Recently, Associate Professor Andrew Smith of the UCT Department of Archaeology, with the support of the Oppenheimer Trust, launched a website at http://www.uct.ac.za/depts/age/people/Gordon/ that features over 250 of Gordon's sketches (including 109 plants in full colour), the entire journal in its original Dutch plus an English translation by South African poet and biographer Patrick Cullinan, a self-confessed Gordon nut ("I could talk about him for hours," he says).
And the journal by this most unsung of explorers has plenty to offer, says Smith. For one, Gordon's descriptions of people (like the Khoekhoen and the San) and places are unclouded by the ideas and prejudices of many of his contemporaries. Instead, he took his cue from associates like natural scientist Georges-Louis Leclerc De Buffon and philosopher Denis Diderot, all pacesetters of the Enlightenment in Europe.
His use of Dutch, slowly seasoned by his familiarity with some of the indigenous languages, may also pique the interest of modern-day linguists. And in his observations on the environment and local climate - he was the first person to pick up on the ties between the Cape southeaster and inland rains - he was breaking new ground.
"I think he was a born natural historian," says Smith. "He was a person who could see the value of something in its own right.
"In some ways, he was ahead of his game."
And now, with a new lease on Web life, everyone else can catch up.
---
This work is licensed under a Creative Commons Attribution-NoDerivatives 4.0 International License.
Please view the republishing articles page for more information.
---