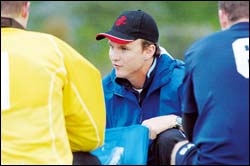 Mixing it up: Pierre le Roux's technical and inspirational skills have earned him an assistant coach spot on the SA senior hockey squad.
UCT first-team hockey coach (and new dad) Pierre le Roux has been named as one of five assistant coaches to SA head coach Paul Revington for 2005, with tournaments divvied up among the five.
SA has received a last-minute invitation to the tough Azlan Shah Cup in Malaysia - sporting some of the game's top outfits - and Le Roux has been elected to second Revington.
In the final question of a local hockey-coaching exam, the candidates are given a list describing a few styles of coaching and asked to name a coach they feel embodies those qualities.
UCT men's first-team coach, Pierre le Roux, who gets to mark many of these papers, is flattered but nonplussed by the number of times his name comes up under "Personable Coach".
"I work as an engineer, so I think my strength lies on the technical and tactical sides," says Le Roux, who has just been named as assistant coach to the SA senior side to compete, following a late opening, against some of the world's best teams in the Azlan Shah Cup in Kuala Lumpur, Malaysia, at the end of May.
But the "personable" tag is not that hard to understand.
Not only does he coach mostly young up-and-coming players - his forte, he says - but as a lecturer on the academic development programme in UCT's Faculty of Engineering and the Built Environment (EBE), with a research interest in teaching, learning and cognitive thinking, another set of skills come into play.
"He has a natural empathy for students," says John Donald, director of sport at UCT and former president of the Western Province Hockey Association.
That comes in handy in the academic development field, according to Dr Howard Pearce, coordinator of EBE's academic development programme.
"Pierre has recognised the struggle that students have in understanding, and he's very good at structuring problem-solving for them in such a way that understanding comes out of that process."
That compilation of hard and soft skills has paid off handsomely for Le Roux and his wards.
Apart from leading UCT to four consecutive league titles (first alongside national head coach Paul Revington, then solo), he's also enjoyed enviable success with Sassu and Western Province under-21 and senior sides.
"I love working with this university age group - the under-21s and under-22s - because they're still developing a lot of their skills and their mindsets, which I suppose is what I do when I lecture as well."
The out-of-the-blue invitation for South Africa to take part in the Azlan Shah Cup does mean, however, that Le Roux has to take unscheduled leave of month-old daughter Sarah and wife Jenny.
Instead, he'll join up with some of his other "children".
The national side boasts quite a few players he had under his wing just a few short years ago.
"It's so great to go back and join them again and watch how they've grown and developed."
It's enough to make any father proud.
---
This work is licensed under a Creative Commons Attribution-NoDerivatives 4.0 International License.
Please view the republishing articles page for more information.
---