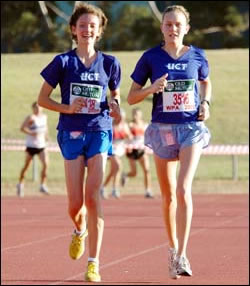 On top of the ocean: UCT's Unice Vorster, Lauren Stewart and Carrie Ritter were named as winners of the Two Oceans Half Marathon women's team event.
Coach James Evans said it best in his apostrophe-riddled e-mail to the members of the UCT Athletics Club: "We kicked their butts!"
The "we" he was specifically referring to were road runners Unice Vorster (first name pronounced YOU-ni-kuh), Carrie Ritter and Lauren Stewart. After officials finally completed their checks recently, the three - long shots by any bookie's reckoning - were named as the winners of the Two Oceans Half Marathon women's team event, calculated on the times of the first three runners of each club to finish.
"To put this in context," says Evans, "6 000-odd people run this race, it gets international attention, and top professional athletes take part. And we kicked their butts!" By some margin. The team finished more than two minutes (2:23 to be exact) ahead of their nearest rivals.
In doing so, the women each improved their personal-best times by around two minutes, in effect slashing six minutes off their accumulated time. First-timers Vorster (aged 19) and Ritter (20), an American exchange student, finished in 01:30:14 and 01:31:03, respectively. And Stewart (22), who just a few years back took more than two hours and 10 minutes to complete the race, clocked 01:34:08.
Although they'd put in plenty of time on the road beforehand - especially along the Two Oceans route - the coach and runners were equally taken aback by the come-out-of-nowhere victory. "You don't go out to win," says Vorster, who even made a short pit stop when the downhill plunge following Southern Cross Drive put strain on a gammy knee. "You just go out for the experience of running Two Oceans."
Even "veteran" Stewart, in her third Two Oceans half marathon, didn't presume to be in the running for a winner's cheque. "It just never crossed our minds that we would win," she says. "When James said after the race that we'd maybe come third, we all thought, ?Oh please, we'll never come third'."
They were right.
---
This work is licensed under a Creative Commons Attribution-NoDerivatives 4.0 International License.
Please view the republishing articles page for more information.
---