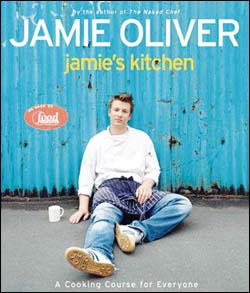 One of celebrity chef Jamie Oliver's books.
When Jamie Oliver appears in London, he fills a football stadium with thousands of screaming teenage fans. More rock star than chef, Oliver encapsulates the celebrity chef phenomenon and throws into sharp focus the kinds of shifts that have occurred in the place of food and cooking in the media - and in our lives, over the past 50 years or so.
Turning an academic eye to the rise of the supercook, food channels and cooking in the media, is PhD student Signe Hansen who is tutoring a third-year course, titled Food Media in South Africa, in the Department of Film and Media.
The course Hansen has put together draws on her PhD interest. It closely examines the phenomenon of the celebrity cook and the superstar chef, and explores the "mass communication of food" in the South African context, with reference to international trends.
Hansen's interest in food has grown out of a personal love of cooking and food in general, and the rise in what she describes as the "mass communication of food", which has occurred over the past fifty years or so. "This development has happened in tangent with, if not as a direct result of, new and emerging forms of media, such as food TV, lifestyle programmes and the Internet," said Hansen. "This intricate relationship between form and content at once suggests and confirms that food media involves a lot more than just food. Indeed, the strange new breed of superstar-chefs points tellingly at the food industry's growing love affair with entertainment, lifestyle, stardom and, not least, corporate concerns." An examination of food media, Hansen suggests, can also reveal a lot about the intentions and methods used in corporate branding, advertising and marketing.
Hansen is interested in the boundaries that are being crossed in the presentation of food in the media, such as the swing in television cooking programmes towards reality TV. For Hansen, the focus on food offers a way to talk about what is happening in the media more generally and the swing to reality TV is reflected in the way food/cooking programmes are being structured. There is a definite blurring of the boundaries between the public and the private in certain of Jamie Olivier's programmes. As in reality TV, the viewer is invited into Jamie's home, and we meet his partner, baby, his mum and his mates.
While concerned with interrogating food media in a specifically South African context, Hansen and her students will make comparisons with international food media trends, particularly as part of their examination of controversial notions of culture, identity and nation-building, which are in separable from something as fundamental as food. The first assignment her students will tackle involves writing an article (with recipe) on what they consider to be South Africa's national dish.
To accusations that food is not an academic subject, Hansen responds that her course is about making a critical engagement with the media, and its impact in the South African context. Such critical engagement reveals, among other insights, the ironic disjunction between the general declines in diet, and increases in clinical obesity and other food-related health issues, and huge escalations in the numbers of people who watch food-related TV shows and "consume" cookbooks and other food-related media.
Cultural theorists of the calibre of Susan Sontag (On Photography; Where the Stress Falls), Noam Chomsky (Manufacturing Consent, with E Herman, 1988), Raymond Williams (Keywords: A Vocabulary of Culture and Society, 1983), Roland Barthes (Image, Music, Text; Mythologies), and Walter Benjamin (The Work of Art in the Age of Mechanical Reproduction, 1935), feature on Hansen's list of reading for the course. These appear alongside recipe books by leading British food writer Elizabeth David (An Omlette and a Glass of Wine; Is There a Nutmeg in the House?), as well as a biography of David by Artemis Cooper (Writing at the Kitchen Table: The Authorised Biography of Elizabeth David, 1999). This is the first year that Hansen is running her course, and she is teaching an enthusiastic group of students, most of whom have plans to go into the food industry themselves, either as chefs, food writers, or advertisers.
Born in Denmark, and raised in Swaziland, Hansen completed her undergraduate and master's studies in the English department at UCT. Her love of food and cooking saw her enrolling at cooking school in Denmark, where she found a great emphasis on media, image and hype, and less emphasis on cooking and food for their own sakes. It was this lack of focus on food for food's sake that sent her rushing back to UCT to embark on her PhD this year.
---
This work is licensed under a Creative Commons Attribution-NoDerivatives 4.0 International License.
Please view the republishing articles page for more information.
---