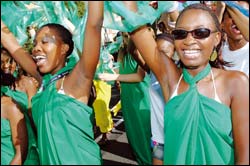 RAG boost for Mowbray
Please allow me to express my thanks to the many people and organisations in Mowbray and Rosebank who contributed to the success of Mowbray Fair 2005 on Saturday, March 12.
The event is calculated to draw attention to the great potential of the Mowbray CBD and to welcome the thousands of new residents - mainly students in res or digs - to this community. Both aims were admirably achieved.
The decision to work closely with UCT RAG and the relocation of the floats procession from Adderley Street after 80 years to the Main Road was very rewarding. Not only was the RAG committee a pleasure to work with, but I believe another essential building block is now in place to grow the relationship between UCT and its host community. The response from the public was also gratifying and I have every confidence that a major new tradition has now been established for our Main Road communities.
The NGOs, charities and churches drawn from the local community and who participated rent-free in the Mowbray Fair, increased their profiles and their bank balances and I hope will serve as an inspiration to those who chose not to take part.
Children were well catered for and I particularly want to thank children's author Niki Daly and magician Carlo for their unpaid and enthusiastic work. Similarly, among many deserving others, Thandokhulu High School's choir and dancers and the Cape Town Highlanders must be singled out for their sterling contributions to the Mowbray Fair.
The event is not yet a money-spinner and this year cost about R30 000 to stage. It has almost broken even. A grant from my ward allocation from the City and a few generous local sponsors has helped. A bigger, better event next year, with this track record, can only be good for Mowbray and Rosebank.
Councillor Owen Kinahan
Rank and file
The Times Higher Education Supplement did a survey of world universities compiled by Martin Ince. Australia and the Far East did well and Latin America, India and Africa did badly. There were no entries from African universities in the top 200, so I asked where UCT was ranked - about 350th apparently.
Mark D Roberts
Medical student went the extra mile for me
On Friday, March 4, I was running past the Sports Science Centre when I had a black out and crashed face first on the tar. My limited medical knowledge (I am an ICU nurse) cautioned me to the potential seriousness as the impact of head to ground was harsh. I was unable to get up, bleeding badly, and called to two young people walking nearby, who looked and walked on.
An amazing person drove past, stopped and assisted me. He offered to take me to hospital. As I work at Vincent Palotti, he took me there. He went far out of his way, letting me in his car although I was bleeding and waited in the trauma unit waiting room to ensure I was alright. He was amazing!
I want to thank him hugely for the angel he is.
He is a third-year medical student, named Henri Pickard. Please publish my thanks in the Monday Paper and offer my best wishes to a young man who displays the character to be a fine doctor.
Joy Herman
---
This work is licensed under a Creative Commons Attribution-NoDerivatives 4.0 International License.
Please view the republishing articles page for more information.
---