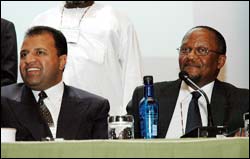 Bigwigs: Vice-Chancellor Prof Njabulo Ndebele (right) with Prof Abdolkabir Alfaahary at the AAU conference.
Vice-chancellor Prof Njabulo Ndebele was elected the new president of the Association of African Universities, hosted by UCT in Cape Town recently. This is an extract from his acceptance speech.
The new board assumes responsibility over the affairs of the AAU at a time when there are many signs that the recovery of higher education in Africa is an historic, irreversible phenomenon, and not a dramatic short-term event. Africa as a whole seems to be on strong recovery path. Democratic governance is on the increase; the number of major inter-state conflicts is on the decline in response to major conflict prevention, conflict resolution, and peacekeeping initiatives; many economies are growing; the establishment of the AU and NEPAD are strong indicators of a pattern of continental stability and steady consolidation.
Intra-state strife is likely to continue as internal social and political movements in emergent African democracies contest for a place in the terrain of influence. But this, I believe, is at bottom, a creative phenomenon: a perfect situation for universities to flourish. Many of us remember African universities flourishing under similar circumstances of state formation and consolidation in both the anti-colonial and post-colonial phases of contemporary African history. The great universities of West and East Africa of those times were world-class centres of intellectual and academic ferment as well as being safe spaces where the conscience of Africa grappled with itself. They flourished until the nightmare of military governments, which proliferated throughout the continent, concertedly destroyed the African University.
African academics were silenced, and in some countries persecuted. Funding for universities declined and so did their status in society. Today, as we begin to restore the African University to its rightful place, it is necessary that African governments who now recognise the importance of the university in promoting social progress, acknowledge this historic fact, if only as a tool of analysis. It is equally necessary for the AAU itself to grapple introspectively with the perception that it could itself have been complicit in this situation by not having spoken out sufficiently in defence of academic freedom. Today we speak of the renewal of the African University. We heard President Mbeki speak of the now porous notion of "national sovereignty". Progressive African states have submitted themselves to a peer review exercise. This is an act of courage of enormous significance. This exercise implies a voluntary willingness to be self-critical as well as to be open to the criticism of others. These countries are in fact submitting themselves to a culture of critique at the heart of the academy. If all of us gathered in here fail to seize this opportunity, we will have missed an historic moment.
I submit that the discourse of development on its own is not enough to resuscitate the African University. The university is not reducible to a development agency. The peer review mechanism tells us that African countries are not reducible to their development policies. Countries are complex systems of human endeavour. Equally so, universities are complex systems of human thought and imagination. Indeed, you become what you think, what you imagine. Our business is about thinking and imagining. It is about doing so rigorously. It is about exciting the minds of our students. It is about mentoring young academics. It is about ensuring a safe and protective space for intellectual work. It is about holding a continuously resuscitative mirror to society. We can say that it is the high quality of thinking and imagining that makes for successful societies. We must find therefore, the discourse that locates the challenge of development within the realm of human creativity. It is in that space that our universities will flourish once more. The rediscovery of that space, I believe, is what fundamentally keeps bringing us together every four years.
I hope that when we reconvene as guests of another member university, in another African country in four year's time, we will have travelled a long distance in regaining lost ground. We thank you for the honour, privilege and confidence you have placed in us to take the lead in that journey. I accept this responsibility and look forward to working with you, the general membership, to take the AAU to new heights.
---
This work is licensed under a Creative Commons Attribution-NoDerivatives 4.0 International License.
Please view the republishing articles page for more information.
---