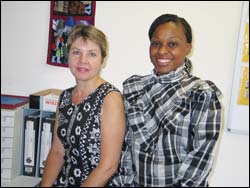 Hardworkers: Paula Bassingthwaighte (left) and Lindelwa Msaseni of the School of Economics.
Graduate administrator Paula Bassingthwaighte and graduate secretary Lindelwa Msaseni are a dynamic duo from the School of Economics who have been nominated as our first Five-Star Staffers for 2005.
Bassingthwaighte has worked at the university for the past 22 years, taking a short five-year break to have children, and is responsible for the administration of the school's postgraduate courses and some 90 students.
Msaseni is Bassingthwaighte's right-hand woman and only joined UCT in April last year. Amid constant interruptions and a throng of students clamouring for their attention, Monday Paper met up with the team, who were nominated by Professor Melvin Ayogu, in an attempt to find out what makes them tick.
MP: What do you most enjoy about your job?
PB: For me it's interacting with more mature students who are doing what they want to be doing. Our students feel part of both the university and the department and that makes a big difference.
LM: I enjoy working with Paula. I have learned a lot from her and she is extremely patient with me, especially when I ask her the same question two or three times.
MP: What do you think makes you successful as a team?
PB: Well, we have clarity and understanding of what needs to be done and this makes our jobs easier.
LM: I think we work well together and complement each other. We are there to back each other up all the time.
MP: What do you do in your spare time?
PB: I enjoy reading and belong to a book club but I also love travelling. It's wonderful to visit different places, meet interesting people and learn about different cultures.
LM: I also love reading - I'm a Danielle Steel fan. I play soccer (it's a good blend of fitness and fun) and I like to spend time with my family.
MP: Are you a cat or a dog person?
PB: My family has two cats. One named Muscat (after the wine, did I mention I belong to various wine clubs as well?) and the other Oreo, after the biscuit.
LM: I have one dog named Jackie - she's a real mixture. But she has a lot of Alsatian in her.
MP: What is it that you enjoy about working at UCT?
PB: Part of the reason I have worked here for so long is that I enjoy the energetic vibe and very relaxed atmosphere.
LM: I've only been here a short while but I love the busyness of campus. It's alive and there is always something happening.
MP: Describe a typical day in your life?
PB: I travel through from Somerset West, so depending on the traffic I normally get in around 08h30. Then I check my e-mails straight away - about 40 new e-mails every morning. After this I head for the coffee shop downstairs and enjoy an Americano. I never know what the day is going to bring but I like to deal with everything that crops up immediately. I usually work through lunch, which consists of cheese and biscuits at my desk, and make my way through the day-to-day work that lands in front of me.
LM: I'm normally in at about 08h00 and its coffee (black, strong and two sugars) straight away for me. I also check my e-mails first thing in the morning and then I take everything as it comes. I usually have a lot of photocopying to do and most of my day is taken up with student queries and lecturers' requests. Sometimes I also assist the front office with reception duties. Lunch for me is a Coke and a sandwich which I eat at my desk.
---
This work is licensed under a Creative Commons Attribution-NoDerivatives 4.0 International License.
Please view the republishing articles page for more information.
---