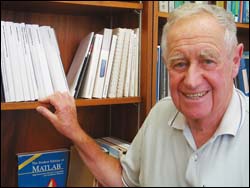 Once bitten: Dr David Richardson, up for his second PhD on Tuesday.
There are two ways of looking at Dr David Richardson's achievement. You could say that he got two PhDs in 75 years, or that he got two PhDs in 26 years. Either way, the result is rare and remarkable.
At 75, most retirees are winding down. But not all. A few of Richardson's contemporaries are still consulting, he says. One recently travelled to Bolivia. But that's a bit extreme, he feels. It's enough that he's completed his second doctorate, this through the Department of Mathematics and Applied Mathematics. He has spent the past several years crisscrossing the Peninsula between Somerset West and UCT to flesh out the framework of his PhD.
And when he graduates on Tuesday, it will mark his second such capping in the space of 26 years. He may downplay the event, but his wife, Maureen, and son, Gordon, will be there to cheer him on: Gordon is a UCT BA LLB graduate and now with KPMG in Johannesburg.
"They're probably more excited than I am," Richardson says, amused.
The veteran comes from a family of butchers, a not too distant occupation for a man who models cattle and goats' grazing rangelands. Much of his life has been devoted to understanding African rangeland and pastoral production systems and the quantitative interactions between rainfall, soils, vegetation and livestock.
"We've spent 150 years pulling the animal and its environment to pieces. Perhaps it's time to put them back together again. Mathematical modelling provides the means to do just that" he says of his research.
Born in Ealing in the United Kingdom, the Richardson family moved into the countryside during the Second World War. Finding himself on a farm, Richardson junior became "very interested in livestock". In 1952 he graduated with a BSc (agriculture) from the University of Nottingham. And then came a life-changing decision: he travelled south to Rhodesia, now Zimbabwe.
Coming to Zimbabwe represented a watershed decision.
"Technical support (extension) services for both commercial and communal farmers were expanding to meet the needs for increased agricultural production. Going there gave me an opportunity I would never have had otherwise."
During his career as an agricultural scientist in Zimbabwe Richardson served as an extension officer, lecturer and researcher. He was awarded his first PhD by the University of London in 1978 for research in isolating factors influencing the productivity of beef cows and their calves in marginal rainfall areas. In 1984 he was appointed professor and head of the Department of Animal Production at the former University of Bophuthatswana, where he served in various capacities, including dean.
His first PhD was very experimental, he says, involving the statistical analysis of data, with lots of fieldwork.
"It was very different back then," he recalls. "I lived 300km from a computer - mainframes in those days. We did the donkey work on the mainframe and I had to finish a lot of the calculations on a desk calculator. I shiver at the thought of having to do that ever again."
Today he works from home, thanks to a computer and modem.
His latest PhD thesis makes a valuable contribution to the search for a unified theory of grazing system dynamics, using computer simulation models of rangeland and pastoral production systems.
His work develops a comprehensive mechanistic model that simulates, over one year, the effects of rain, stocking rate and range condition on the productivity of forage and livestock in the Succulent Karoo of Namaqualand. The thesis explores how this short-term model can be used to model ecosystems in the much longer term (100 years).
Richardson's "second wind' after retirement has grown into a fully-fledged career as an Honorary Research Associate with the department (he was appointed in 1990), during which time he has supervised an MSc student, a PhD student, as well as the honours projects of two others. He also co-supervised a postgraduate student at the University of Zimbabwe, who was awarded an MPhil in 1998.
"It's important to get the next generation involved in the field," he contends.
A third PhD? He smiles wryly - but only because he's mindful of his wife's exhortation: slow down.
---
This work is licensed under a Creative Commons Attribution-NoDerivatives 4.0 International License.
Please view the republishing articles page for more information.
---