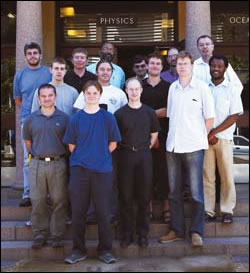 Around the clock: the international team who hooked up Cape Town to the world GRID.
Physicists are celebrating a first for Cape Town and the world, after a group of international experts successfully linked Cape Town, Bergen in Norway, Heidelberg in Germany and Dubna in Russia in a real-time data-processing application that will allow researchers to harness the computing power of large centres in the Northern Hemisphere.
The milestone was achieved after the eight visiting experts, from Germany, Norway, India, Italy and France, successfully completed the job at 22h00 a week ago, working around the clock on the project under the leadership of Professor Dr Volker Lindenstruth of the University of Heidelberg in Germany.
It is believed that this could be the world's largest, distributed real-time data processing Grid (the successor to the World Wide Web), forming a vertical data link from Cape Town in the Southern Hemisphere, crossing all of Africa and most of Europe up to Bergen in the Northern Hemisphere, a distance of 10 000km, as well as to Dubna near Moscow.
Professor Jean Cleymans of UCT's physics department explains: "On the Web, you can only look at files, while with Grid you can harness the processing power of computers around the world, which then also requires a higher level of security. This step allows researchers in South Africa to access the computing power of these high-level computing centres in the Northern Hemisphere."
UCT is aiming to house South Africa's first Centre for High Performance Computing and this step is an important milestone in working towards this objective.
The application is a high-speed processing system for high-energy physics and was managed from Cape Town. A "task manager " received data published from Bergen and Dubna, which was merged in Heidelberg and sent to the computing cluster in the physics department at UCT for further processing. The result was then sent back to Heidelberg, in real time.
Due to the network bandwidth between Cape Town and Heidelberg, the processing rate was limited to about 0.6 Hz (events per second). The bi-directional bandwidth to Heidelberg has been monitored over the past couple of weeks and has been found to be stable.
The group at UCT is led by Cleymans and physics senior lecturer Dr Zeblon Vilakazi who are also working on the development of the Alice (A Large Ion Collider Experiment) experiment at Cern in Switzerland, the world largest particle accelerator institution.
Cleymans' group has once again established their lead position in the field of distributed and Grid computing.
---
This work is licensed under a Creative Commons Attribution-NoDerivatives 4.0 International License.
Please view the republishing articles page for more information.
---