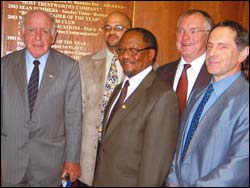 Paving the way: At the signing of the memorandum of agreement between the Raymond Ackerman Foundation and UCT were (from left) Raymond Ackerman, UCT's manager of relations and fundraising Brehndan Botha, VC Prof Njabulo Ndebele, and the GSB's Dr Mike Herrington and Prof Frank Horwitz.
The boardroom of Pick 'n Pay's head office in Newlands was a hive of activity early last week when a memorandum of agreement was signed between UCT and the Raymond Ackerman Foundation, giving rise to a new academy of entrepreneurship based at the Graduate School of Business.
As part of the first special gift to the Chancellor's Challenge 175 (CC175) campaign, the Raymond Ackerman Academy for Entrepreneurial Development will focus on developing business and life skills among young people, particularly those from disadvantaged backgrounds.
The academy will target school leavers who are otherwise unable to access tertiary education, thus leaving school with limited skills to obtain employment, including potential self-employment. In addition, it will nurture talented entrepreneurs and promote the development of a spirit of entrepreneurship as a means to personal development and job creation in the South African context.
Ackerman, himself a UCT alumnus and bellwether of entrepreneurship, said the academy was about giving young people a fighting chance at making a success of their lives. He described his CC175 gift and the academy as his living legacy.
"I wanted to give something back to the next generation of South Africans and reach out to those many talented individuals who because of their circumstances fall through the cracks and don't get the break in life they deserve."
In paying tribute to Ackerman and his family for their vision and support, vice-chancellor Professor Njabulo Ndebele said the academy represented an important social and economic contribution by both Ackerman and UCT.
"It is certain that the outflow of this partnership will be the very basis of true entrepreneurship in our country and the essence of real hope for those who would otherwise have neither the opportunity nor the tools to pursue their dreams."
A recent survey by London's Financial Times and PricewaterhouseCoopers rated Ackerman as one of the world's most respected business leaders. He was the only South African honoured in the study. Pick 'n Pay was named the second most respected company in South Africa, after Anglo American, in the same study.
---
This work is licensed under a Creative Commons Attribution-NoDerivatives 4.0 International License.
Please view the republishing articles page for more information.
---