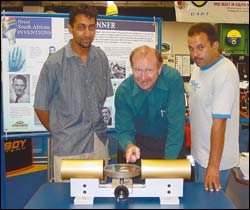 Re-builders: (From left) Nazir Karbanee, Prof Kit Vaughan and Charles Harris.
There can be no question that Allan MacLeod Cormack's prototype CAT-scanner is a very worthy entry in the exhibition of Great South African Inventions, currently on at the MTN ScienCentre at Canal Walk.
It is after all this computer-assisted tomography scanner that won Cormack, the late UCT alumnus, and British engineer Godfrey Newbold Hounsfield the 1979 Nobel Prize in Physiology or Medicine for their independent contributions to this revolutionary X-ray technique. CAT scans are run of the mill these days, allowing doctors to put together three-dimensional pictures of the internal parts of the body using a series of two-dimensional X-ray images.
But the scanner, which Cormack first cobbled together when teaching at UCT and working at Groote Schuur in the late 1950s, almost didn't feature at the ScienCentre exhibition where 200 milestone South African inventions are on show. In a moment of regrettable myopia, the original prototype and phantom - a structure to simulate the skull plus a brain tumour - was thrown out when the Department of Physics moved to the RW James Building in 1966.
And the second prototype, developed in the early 1960s after Cormack had moved to Tufts University in the US, is now housed in the Smithsonian Institution's National Museum of American History in Washington DC, which received it as a donation after Cormack's Nobel triumph. That was not available for the SA exhibition either.
Into the breach stepped Professor Kit Vaughan, master's student Nazir Karbanee and chief technical officer Charles Harris, all of the Department of Human Biology. With the permission of the Smithsonian, the team has built a working replica of Cormack's CAT-scanner, which is now on loan to the ScienCentre. Vaughan photographed and measured the original scanner at the Smithsonian, Karbanee did the engineering drawings, and Harris manufactured the machine.
When it is returned to UCT in January 2005, the scanner will be the primary exhibit in an interactive museum Vaughan and his colleagues will establish to promote the teaching of medical imaging.
Those interested in viewing the machine before then, though, can pop into the ScienCentre for the exhibition that will run until December 31.
---
This work is licensed under a Creative Commons Attribution-NoDerivatives 4.0 International License.
Please view the republishing articles page for more information.
---