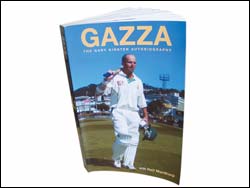 Words of praise: In his autobiography, cricket star Gary Kirsten talks on his many influences at UCT.
UCT has received some rave reviews from a most unexpected source - Gazza - the Gary Kirsten Autobiography.
In the book, released by publishers Don Nelson a month or so back, the Proteas cricket star is nothing less than rapturous about his time at UCT, the period from 1986 to 1988 when he was doing a Higher Diploma in Education and a BA degree, and the people he met here. Remarkably so, as he came to UCT during a difficult stage in his life, soon after his parents' divorce.
UCT offered the 18-year old Kirsten an escape and the opportunity to indulge in his passion for sport (he also played rugby for UCT, under later Western Province and Stormers coach Alan Solomons). "But even that didn't concentrate my mind and I was heading towards the status of loose cannon," he says in the book. It was Duncan Fletcher, the then UCT coach who would later take charge of the English national team, who kept the heavy-partying Kirsten on the straight and narrow. "He became one of the greatest influences on my life and career," writes Kirsten, "a true mentor."
It was also Fletcher who, in a defining moment, one day pulled aside a hung-over Kirsten, then batting number nine for UCT and resigned to brother Peter's shadow, and planted the germ of a spot in the Western Province side in his head. That brief talk inspired Kirsten to turn his batting and, more than likely, the trajectory of his career and life around. "Duncan's words about playing for Province had come back to me a few times in the weeks since he said them," writes Kirsten, "and all I could think was: 'Well you'd better move up the UCT order before that happens'." Before long he was scoring half-centuries, was moved to number four when the position opened up briefly, and cemented a place in the top order.
"Those couple of weeks were key to the way my career progressed," Kirsten notes. "It was the wake-up to the real world, the letting go of school and the comfort years and the realisation that, whatever I was going to do, it was going to take hard work."
Millions of fans across the globe are grateful.
---
This work is licensed under a Creative Commons Attribution-NoDerivatives 4.0 International License.
Please view the republishing articles page for more information.
---