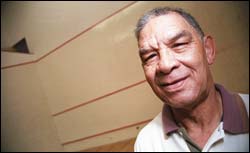 Going to the wall: Pat Williams has been honoured by Squash SA for his many contributions to the game.
Thanks to a rickety hip, Pat Williams hasn't been able to play for years, but such has been his continued contribution to the game of squash that the sports national authority, Squash South Africa, has honoured the UCT staffer with its prized Honours Award.
The accolade commemorates the role that Williams, 69, has played in the game's development beyond just the confines of UCT. But it's work that started right here.
Williams came to UCT in 1978 as a swimming pool attendant, was moved to the sports centre on upper campus where he soon got involved in running the squash club. "For some unexplained reason it drew my attention."
Before long he was attending national competitions as assistant manager - "I took all the brunt" - and was voted onto Sassu Squash's executive committee, serving as chairperson for five years. He was held in such esteem that in 1996 he was elected as manager for the South African team that went to the World Student Squash Tournament in Maastricht in the Netherlands. He also had a hand in starting up the development programme that UCT still runs with kids from surrounding townships.
Naturally, Williams has been witness to plenty of changes in the sport over the past decades. "I've seen squash players develop into national players and squash entering the international circuit," he says. "I've seen squash racquets change shape and colour and the whole game becoming more and more professional."
He also saw the face of the sport change in the late 1980s and early 1990s as once-polarised squash groups patched up their differences to form an umbrella body under Sassu. The period stands out for Williams.
"It was trying times for all concerned and at the UCT-level there were great obstacles to overcome. But overcome we did."
Officially, Williams is retired from UCT, but he is still employed in a casual capacity - it's he who greets swimmers and players at the Kopano pool and squash courts. And because he's still on campus, John Donald, director of the sport and recreation department, had the pleasure of passing on the news to him about his Squash SA award. Williams prefers it that way.
"It's nice that I heard about it here at UCT where it all started."
---
This work is licensed under a Creative Commons Attribution-NoDerivatives 4.0 International License.
Please view the republishing articles page for more information.
---