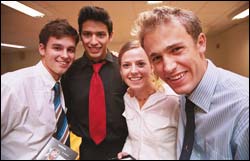 Resting their cases: (From left) Management accounting students Raun Billett, Yaser Survé, Monique Purdue and Derrick Betts take a break after winning UCT's first Case Competition.
Teaching accounting and management accounting through case studies - working through true-to-life problems rather than just drilling students in drab textbook concepts - has long been the rage in Europe and North America.
But other institutions, such as those in South Africa, have generally been slow in picking up on the trend. Not so UCT. Here case studies have become par for the course in the university's Management Accounting II programme since its inception in 2001. "We use the cases in the course to simulate the real world," says convenor Dr Richard Chivaka. "The objective is to give students an idea of how businesses are run and the challenges that executives encounter on a daily basis, as well as in formulating, implementing and evaluating company strategy."
But the university is still lagging some way behind its northern hemisphere rivals in one other regard. For years, institutions abroad have hosted international competitions in which students square off against each other in working through case studies, presenting possible business solutions to real-life examples. When UCT sent its first envoy to an international competition - the only African institution to do so - at Copenhagen Business School in Denmark in 2003, the UCT students were a little green. This year's group, who competed in Canada did much better, but it was clear that there was still some ground to make up.
The first competition in Denmark had convinced Chivaka that UCT needed an internal Case Competition. "We had a little more experience this year, and we learned a lot," he says.
"But I knew that we had to get something running at UCT, which is what other universities do." Such a competition would not only allow the department to dig up the best students for an international bout, but would also give the selected ones some idea of what they're in for when they go to the next competition, in Montreal in 2005.
A few weeks ago, Chivaka crowned the winners of the accounting department's first Cima Case Competition, named after the main sponsors, the Chartered Institute of Management Accountants. Negotiating their way past nine other teams of four, it was Derrick Betts, Raun Billett, Monique Purdue and Yaser Survé who took top honours. In their winning project the four had to consider, based on information and numbers provided to them, the expansion opportunities for an organic food retailer, and how best to finance that growth.
It was a particularly trying competition as it took place the day after the students had written the final papers of their end-of-year exams. The winning group was a zealous lot, though, and had burned the midnight oil to prepare for the event rather than opt for a post-exam jol. "We had to put in a lot of effort, and a lot of our time," says Billett. For that commitment each of the four received a nifty new cellphone, donated by Siemens, another sponsor of the competition.
The phones could come in handy next year as the four are now also in line for a spot in the UCT team to go to Canada.
---
This work is licensed under a Creative Commons Attribution-NoDerivatives 4.0 International License.
Please view the republishing articles page for more information.
---