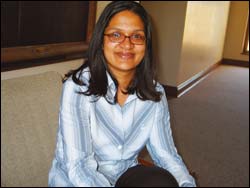 Verse-maker: Human resources advisor Ronelle Anthony sees to the needs of no less than seven departments.
Caring for the human resources requirements of approximately 800 people sounds like a daunting task.
But not for Ronelle Anthony who has earned the title of this week's Five-Star Staffer. "My work is a direct reflection of me," says Anthony, who joined UCT only in June 2003 and sees to the needs of seven departments, including research and innovation, institutional planning and the postgraduate funding office.
"I'm very passionate about what I do - I think it's my calling in life. I tackle every situation with the same amount of enthusiasm, be it a general salary query or influencing management. I always tend to think if this was a problem affecting me, how would I like it to be handled."
It's this attitude that has merited words of praise from Peter Coode and his colleagues in the Department of Student Housing and Residence Life.
"This is perhaps one of the few ways that my colleagues and I can thank Ronelle for coming into our lives and caring enough to want to make a difference.
"How she manages to achieve a balance between being a mother of two young children, a wife, and someone who brings a huge amount of enthusiasm and creativity to her work place, remains a mystery to me," he added.
"It's all about time management," Anthony noted. "I make sure I can access my e-mail and telephone messages from wherever I am so that the turn-around time of replying is not dependent on my being in the office."
For Anthony, it is also about getting to know the individual needs of her varying client base.
"I make it my business to get to know people. In this way they are not just numbers on the SAP systems and when they call I can put a name and a face together."
Besides hoping to read for a master's in organisational psychology at UCT next year, Anthony aspires to publishing an anthology of her poetry. "This will of course be under a pseudonym," quips the commerce graduate who originally wanted to become a chartered accountant.
"I enjoy writing about life experiences - family, disappointments, happiness, death - it's therapeutic for me. Otherwise I would have to pay a psychologist a lot of money." So when you see the poet's picture splashed across book stores, remember that you first read about Ronelle Anthony in the Monday Paper.
---
This work is licensed under a Creative Commons Attribution-NoDerivatives 4.0 International License.
Please view the republishing articles page for more information.
---