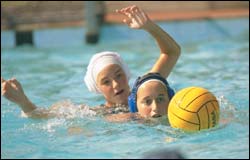 In the drink: UCT's Emily Schmidt (in blue cap) protects the ball as she plans a getaway from Silvertree A's Debbie O'Hanlon. Sadly UCT couldn't keep Silvertree at bay, and lost the match 5-6.
There have been plenty of highs and lows for UCT's water polo sides in the Western Province summer league. Over recent weeks, the UCT Tigers - one of the two men's sides in the first league - breezed past Victorians 12-1. The other team, Ikeys, alas couldn't match their UCT compatriots, and lost 5-12 to Silvertree. The UCT women's team enjoyed mixed fortunes against Silvertree A and B - the top contenders for honours in the league - on consecutive weekends. They staged a late comeback against Silvertree B on October 30, scoring a last-gasp goal to scrape to a 5-4 victory. UCT was on the receiving end of such an eleventh-hour score a week later against Silvertree A, going down 5-6. According to Kimberly Schmidt, one of the side's SA players, all UCT teams have had problems over the past weeks as players were diving into the books rather than the pool. With exams drawing to a close, however, things should begin to look up soon.
---
This work is licensed under a Creative Commons Attribution-NoDerivatives 4.0 International License.
Please view the republishing articles page for more information.
---