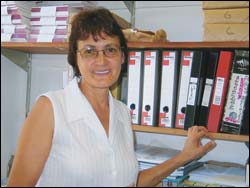 Five-Star Staffer Venetia Naidoo.
Recognised for her unique approach of dealing with people in a life affirming way, Venetia Naidoo is extolled as this week?s Five-Star Staffer.
As a financial manager based in the Project for the Study of Alternative Education in South Africa (PRAESA), Naidoo's colleagues sang the praises of someone they describe as helpful, friendly and patient.
"She's loyal towards the project, stands by her colleagues through thick and thin and is always willing to go the extra mile," said Peter Plüddemann.
Daryl Braam added: "She has a deep, caring manner, using her experience as a resource to solve problems and offer assistance. What matters to you, matters to Venetia, despite her being very busy.
"Her quality of humility, where she sooner gives credit to others for successes or achievements rather than herself, makes her an approachable individual - it provides her colleagues with a sense of being in the presence of a mother figure."
Responsible for tracking all PRAESA's financial matters and keeping donors up to date, Naidoo's administrative and public relations skills were honed after years of working for the South African Committee for Higher Education.
It was here that she worked with PRAESA director Professor Neville Alexander. Shortly after moving to UCT to establish the project, Alexander asked Naidoo to join him at the university. That was nearly eight years ago.
"I enjoy my work and the pleasant environment," she commented. "Professor Alexander inspires me. He is always motivating us to improve ourselves and our skills.
"Coming from an NGO background where there is a lack of resources, you realise there is not an endless supply of money. I don't like to stick to job descriptions. You just have to help out wherever you can."
Naidoo has also been praised for her "remarkable memory".
"Nothing need be asked for twice and if Venetia has done it, it will be meticulously done," noted colleague Carolize Jansen.
"When I'm speaking to someone all I do is make a mental note of what needs to be done. I tend to prioritise what needs to be remembered," Naidoo explained.
A mother of three daughters and a son, and a grandmother of one, Naidoo has just returned from the Athens Olympic Games.
The trip had a dual purpose, providing a much-needed holiday, while allowing Naidoo to support her daughter, Leigh-Ann, who together with team mate Julia Willand became the first South African beach volleyballers to qualify for an Olympic Games.
"Although it was very dry and hot, it was a wonderful experience. Besides the volleyball, I enjoyed watching the gymnastics. I also got to visit one or two of the islands, which were lovely."
A well-deserved break for a well-deserving staffer.
---
This work is licensed under a Creative Commons Attribution-NoDerivatives 4.0 International License.
Please view the republishing articles page for more information.
---