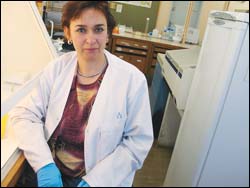 Outstanding research capacity: Dr Sahar Abdul-Rasool (clinical laboratory sciences) is investigating new tests for breast cancer.
One in ten women will die of breast cancer according to current statistics. While health and awareness campaigns have improved early detection rates of the disease, researchers like UCT's Dr Sahar Abdul-Rasool of the clinical laboratory science department are working on the clinical side to provide women with a more sensitive diagnostic test, one that allows for earlier intervention.
An Iraqi, Abdul-Rasool came to South Africa three years ago to begin her PhD in the field. With a slice of Table Bay in view from her desk in the molecular biology laboratory (haematology unit), she is delighted to be in Cape Town, admitting it was the picture of Jameson Hall on the website that clinched the decision to study here.
Abdul-Rasool qualified with an MBChB from the University of Baghdad College of Medicine in 1987 and obtained her MSc from Nahrain University Medical College in 1995, her thesis on the quantitative histochemical study of skeletal muscle fibre. She has also lectured at universities in Yemen and Libya.
Abdul-Rasool is part of a collaborative team of researchers from UCT's clinical laboratory sciences, surgery and anatomical pathology departments who are conducting an important study to develop a more sensitive diagnostic test that will provide earlier staging and testing.
According to the researcher, if diagnosis and treatment of breast cancer are delayed until the primary tumour has metastasised (spread) and the lymph nodes are palpable, the five-year survival rate for women is 45% to 50%.
Much of the current research into the disease concerns the sentinel nodes in the cancerous breast tissue. A sentinel node is the first node cells migrate to when the cancer develops on the lymph nodes under the arm, and are the ones doctors try to remove, sparing the wholesale removal of tissue in the axilla (which contains fat, lymph nodes, lymph and blood vessels as well as nerves), to prevent any cancerous cells spreading.
But new insights have shown that removing the axillary tissue does not necessarily prevent this. Often it causes numerous side effects like chronic pain and lymphedema (chronic swelling of the arm).
The sentinel node procedure provides doctors with a far more accurate way of isolating the cancer.
"It is the likely site for lymphogenic metastases," Abdul-Rasool explained. It involves a more delicate technique and by lessening side effects in this way, the procedure is less complicated for the patient in the short and long term.
However, it is known that breast cancer patients with no clinically-apparent signs of metastasis may already harbour nodal micrometastasis, cancerous spread at a molecular level.
"If you can detect and more accurately stage the cancer at this point, treatment is more likely to be effective as the tumour burden is small and the host still immune-competent. Currently, staging involves histopathological examination of the sentinel node to detect cancerous spread to the surrounding or axillary node.
The sentinel node is the most likely site for spread among the lymph glands and can be identified with a 98% accuracy using radio-guided surgery.
"We're already using this surgical technique at Groote Schuur Hospital (GSH)," Abdul-Rasool added.
But the method of examining the sentinel node is still costly and labour-intensive. The team of researchers has now developed a specific and reproducible molecular assay that can accurately detect the spread of cancerous cells in the sentinel nodes.
The team evaluated the gene expression patterns of 73 molecular markers in sentinel node biopsy specimens gathered from patients at GSH.
Most of these are cancer-testis antigens (CTAs), antigens normally present in testis tissue but abnormally expressed by cancerous cells.
"Breast cancer has its own unique CTA profile and our aim was to find the perfect combination of markers to ensure 100% detection and specificity."
The results have been very encouraging. The researchers found that immunohistochemical analysis in the lab resulted in a 77% detection rate, compared with 37% for histopathological examination.
"Immunohistochemical is considered essential in order not to miss sentinel node micrometastases. Molecular analysis of breast tissue with MAM-A and MAGE-A3 were found to allow specific and sensitive detection of breast cancer micrometastases with a 90% detection rate.
"However, the clinical value of histologically negative but molecular positive sentinel nodes can only be determined with long-term follow-ups with patients.
"This work can revolutionise breast cancer diagnosis and staging, allowing for earlier treatment, better prognoses and prolonged patient survival."
Abdul-Rasool took her findings to Sydney where she presented an oral presentation at the prestigious Leura V International Breast Cancer Conference earlier this month.
Her supervisor, senior medical scientist Dr Gideon Hanekom, considers this a significant achievement. It also vindicates Abdul-Rasool's initial thoughts about choosing to train at an institution at Africa's southern-most tip.
"UICT is a university with outstanding research capacity. Here I can fulfil my hopes and ambitions regarding my scientific work."
And, of course, there's her view from the top.
---
This work is licensed under a Creative Commons Attribution-NoDerivatives 4.0 International License.
Please view the republishing articles page for more information.
---