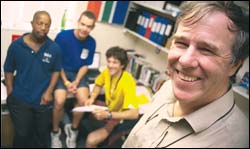 Nobel-winners? Prof Tim Noakes (far right) sets high standards for sports science students like (from left) George Mokone, Ross Tucker and Jonathan Dugas.
Mickey Mouse. That's how some pooh-poohed Professor Tim Noakes and his fledgling UCT sports science group in the early 1980s.
Now Noakes, Discovery Health professor of exercise and sports science, is having the last laugh. The group he started back then on little more than a wing and a prayer - now known as Exercise Science and Sports Medicine (Essm) - is an acclaimed research unit of the Medical Research Council.
And Noakes himself? Not just South Africa's premier sports scientist, he's now also hurrahed as a world leader. Just ask the National Research Foundation (NRF), which has bumped him up from his previous B-rating, naming him as the country's newest A1-rated scientist and a leading scholar in his field internationally. UCT now boasts the only three scientists in the country who have both an A-rating and are directors of such an MRC unit - Noakes and Professors Kit Vaughan and Frank Brombacher.
Noakes earned that éclat by pushing the scientific envelope. And by speaking his mind. That's a lesson he learned at the feet of mentor, Professor Lionel Opie, director of the Hatter Institute for Cardiology Research. It was Opie who at a major conference in New York in 1976 egged on Noakes, barely out of his research nappies at the time, to brazen his way into the speakers' programme. On the podium Noakes duly debunked the notion then popular among scientists that marathon runners would be all but immune to heart disease if they just continued to tear up the road.
Those at the conference not breathing fire at the young upstart poured praise on him. Three years later the final version of the paper, Coronary Heart Disease in Marathon Runners, made it onto the pages of the discerning The New England Journal of Medicine. (Bearing out Noakes' words, Jim Fixx, the American godfather of jogging, died of heart attack during a run in 1984.)
Noakes and his researchers at Essm and colleagues at the Sports Science Institute of South Africa (SSISA) have bucked the trend a few more times since then. While scientists and sports-drink manufacturers were telling marathoners and ultra-marathoners to guzzle vast amounts of liquids, Noakes proved that many were simply drinking too much. As a result, they were likely to suffer from a sometimes-fatal condition called hyponatraemia in which too much liquid dilutes the body's essential salts. Only lately has Noakes' work on hyponatraemia been grudgingly recognised by, among others, USA Track & Field (USATF).
More recently, Noakes and his team have begun to lay into the most sacred of sports science canons - Nobel prize-winner AV Hill's 100-year-old "limitations model". According to Hill's theory, it is the muscles that determine fatigue in the body when it runs out of oxygen or fuel. With their "central governor model", however, Noakes' group argues that it is in fact the brain that regulates fatigue. It does so, they say, to prevent the body from hitting a "catastrophic state" where it has exhausted all its reserves. Five papers to this effect will soon appear in the British Journal of Sports Medicine.
As his track record has shown, Noakes prefers to tackle the tough, controversial issues. That's a message he's passing on to his students, a group of whom he has great expectations.
"In science, I believe you can only achieve what people give you the right to achieve," he says. "Lionel Opie gave me the right to challenge the rest of the world from the day I walked into his laboratory. My view is that every student I see, I give the right to win a Nobel Prize." Or, even better, to outdo the boss. Students at Essm are constantly reminded to be BTN - Better Than Noakes.
It's that willingness to be upstaged by his students that attracted 39-year old American Dr Tamara Hew to the SSISA for her PhD. Back in the US Hew had also worked on hyponatraemia and, like Noakes, had come up against academic resistance.
"I liked the way he ran his lab and his approach to science," says Hew. "And there's a lot of academic freedom here that I didn't have back home."
Hew is just in time to see Noakes and his colleagues explore some new ground at the institute. They are sprucing up a proposal for the Department of Science and Technology (DST) to set up one of its centres of excellence at the SSISA. The flagship project for this centre will be a Charter for Physical Activity and Sport for Children and Youth, run by the SSISA's Dr Karen Sharwood.
There are few better places to inculcate an appreciation of physical activity among youngsters than at school, says Noakes. Yet South Africa has seen a sharp decline in physical activity among children. It is feared that this phenomenon will, as it has done in Europe and the US, spark a disastrous rise in obesity and a rash of related illnesses.
The charter signals a mind shift for the SSISA and Essm. While it will continue to run successful programmes like Macsteel Maestros of the Future - which helped Natalie du Toit and Malcolm Pringle to their haul at the Athens Paralympics - no longer will it just concentrate on spawning medal-reaping sports heroes.
"If you'd asked me 10 years ago, I'd have told you it's terribly important for nation-building that you have heroes," says Noakes. "I still think that's true, but if you have an unhealthy nation, having heroes doesn't help."
Noakes and his colleagues at Essm and the SSISA are moving out of the labs. Nowadays they can be spotted courting power players in government and business, lobbying influence groups and networking with organisations that share their enthusiasm for the charter. They're beginning to flex some new muscles.
Don't think Mickey Mouse. Think Mighty Mouse.
Praise singers
"Tim is an inspiration to all scholars, both young and old. He is an original thinker who is unafraid of pursuing his sometimes unorthodox theories, often in the face of scientific dogma, but always with a cogent argument, backed up with hard data." - Prof Kit Vaughan, UCT
"He is a scientist, physician and athlete and much of his learning has come from involvement in athletics. Hence, Tim Noakes feels and understands things intellectually as well as somatically in ways few of us have experienced." - Prof George A Brookes, University of California, Berkeley, USA
"More than almost anyone else, he is the fellow who is 'rattling the cage' of several of the basic theories in contemporary sports science." - Prof Carl Foster, University of Wisconsin-La Crosse, USA
"I don't think of it as working for him as much as you feel that you are always working with him and just get carried along with his enthusiasm for everything." - Lorraine Sivewright, Essm
"He has inspired many health professionals like myself to embark upon a career in sports medicine and sports science. I believe that he has no peer in this country." - Dr Ismail Jakoet, SA Rugby
"His contribution to the understanding of the limits of human performance is without equal." - Sir Roger Bannister, who on May 6, 1954, ran the first sub-four-minute mile in recorded history
---
This work is licensed under a Creative Commons Attribution-NoDerivatives 4.0 International License.
Please view the republishing articles page for more information.
---