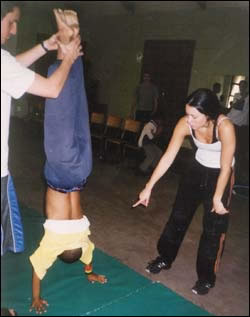 Changing perspectives: Margot Scheffer (right) and Martin Odendaal (left) of the UCT gymnastics club have won the hearts of many children at Shawco's Manenberg centre.
A modest outreach project of one UCT sports club may soon take off in a big way, drawing in a host of other groups.
Sometime in 2003, Jose Jorge "JJ" de Castro Maia, then chair of the university's fledgling capoeira club, was looking for ways to win new converts to the Brazilian martial art. More specifically he wanted to take the sport, so popular among the Brazilian poor, into local communities. To test the water he staged a one-off exhibition session at Phoenix High School in nearby Manenberg. So receptive were the pupils to the limber sport that De Castro Maia realised that maybe a few more such visits would be in order. "It was such a success that I knew we needed to make it a more regular event," says the third-year property-studies student.
De Castro Maia got in touch with Gilbert Pooley, youth development officer at Shawco, who arranged for the capoeira club to every so often - sometimes weekly, sometimes every second week, depending on students' academic schedules - host clinics at the outreach organisation's Manenberg centre. Not only did the UCT students teach kids basic capoeira moves, but also lent a hand with the dance classes running there.
In June this year, the centre decided to launch a sports develop-ment programme of its own. "In Manenberg you have lots of social problems," says Cyril Pelston, Shawco's site manager/facilitator for the area. "What we wanted to do was involve the youth in a constructive programme, and expose them to positive values." The organisation also wanted to turn the under-utilised centre into a more vibrant locale. To help realise these goals, Pelston approached UCT sports clubs.
Margot Scheffer, chair of the gymnastics club, was one of those to respond to an appeal from Pelston. After a fact-finding trip to Manenberg with De Castro Maia as her guide, the 23-year-old master's student in structural biology soon kicked off a programme of her own. For some three months this year, Scheffer and other members from her club, using what equipment they could drag with them each week, ran a large groups of kids through some elementary matwork - handstands, somersaults and the like. Scheffer, who works with a similar team in the gymnastics club, also got involved with a Manenberg breakdancing crew, even securing sponsorship through Sassu for the dancers' competition expenses.
At the sports dinner awards in October, UCT presented De Castro Maia and Scheffer with the 2004 Transformation Trophy, much to the students' surprise (neither even knew they'd been nominated until they got to the event on the night).
As flattering as the award may be, rewards were not why he got involved in the project, says De Castro Maia. Part of the satisfaction comes from taking an idea and seeing it to fruition. Another is setting a positive example for the Manenberg kids. "That feeling of being a role model means quite a lot, and it makes you feel good about yourself." With both now serving on the Sassu-UCT executive committee, the student body that oversees sport at UCT, De Castro Maia and Scheffer hope to get more UCT sports clubs to join them in Manenberg next year. While there was little buy-in from clubs before, the pair's work at the centre has sparked plenty of interest of late, reports De Castro Maia.
Scheffer is certainly looking forward to next year. "It's really amazing," she says. "I didn't know what to expect the first time I went out. Now I'm very closely connected to the kids."
And the kids have responded in turn, says the centre's Pelston. Many were aggressive and rowdy when the programme started, he points out. "After two months, I could see that they were more disciplined, much less aggressive.
Transformed, you could even say.
---
This work is licensed under a Creative Commons Attribution-NoDerivatives 4.0 International License.
Please view the republishing articles page for more information.
---