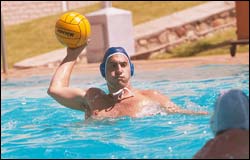 Winding up: Gareth Samuel, UCT's national player, gets ready to take a shot at the Maties' goal in a recent match.
The men's water polo team is planning for the future.
About to lose the lion's share of its veteran players (including SA cap Gareth Samuel) at the upcoming December graduations, the men have come up with a bold strategy for the summer league, which has just kicked off. Rather than throw an all but new squad into the deep end next year, the team has opted to split its current first-team squad into two sides (the Ikeys and the Tigers).
Up-and-coming players from the other UCT teams were then drafted into the two new squads. These draftees now have the opportunity to cut their teeth in the first league, where they are likely to compete again next year.
The club took care to establish two very strong, well-balanced sides for the current season, says Cablan Khaled, outgoing club chair and one of the players due to leave at the end of the year. That vow was borne out in a hairline 9-8 Ikeys victory in a recent league match between the two sides.
Sadly, Ikeys couldn't carry that form through into its game against Maties on Saturday, October 23, where they lost 5-11 to their Stellenbosch rivals. Disappointing, but there was a silver lining even in that defeat, says Khaled. Down 2-8 halfway into the match, the young UCT players rallied in the last two chukkas and managed to hold Maties to three goals apiece in the half. "In the league, going up against Stellenbosch is always hard going, more so with young players who are still learning," says Khaled. "And Maties have mastered the art of taking advantage of those kinds of situations." UCT of course hopes to turn the tables on Stellenbosch next year.
Just as soon as they find their water legs.
---
This work is licensed under a Creative Commons Attribution-NoDerivatives 4.0 International License.
Please view the republishing articles page for more information.
---