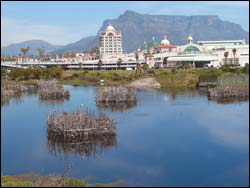 For the birds: With Century City in the background, the islands designed by environmental officer Deon Weyers are proving to be popular nesting spots.
Developers and environmentalists are often at loggerheads, but there's at least one success story on our doorstep that has pointed the way to doing business differently. Known today as Intaka Island (meaning "bird island", formerly known as Blouvlei), it is the nature area that lies in the heart of Century City.
Ten years ago it was characterised as a "water-logged wasteland" in a planning report, and the wetland came close to being destroyed until an enormous colonial nesting site - or heronry - was discovered on a little-known vlei.
Screened by Port Jackson trees, literally thousand of birds were found to be using the alien trees on the shore of a large vlei for roosting and nesting, a fact documented by the Avian Demography Unit at UCT, which took to canoes to carry out a survey. It was the largest nesting site of its kind in the Western Cape, and believed to be one of the largest in the country.
At the time, there was some urgency in getting planning approval as Century City was one of the bidders for a casino licence. However, once the heronry was made public through the Cape Argus, it was no longer possible for the developer to disregard the environmental implications of building over the wetland and a proper environmental impact assessment (EIA) process was initiated. It was eventually decided that 16 hectares would be set aside as a multi-purpose nature area to conserve waterbirds and Sand Plain Fynbos, and to cleanse the water for Century City's network of canals.
James Harrison of the ADU has sat on the Blouvlei Environmental Committee (BEC), along with several other players, since its inception in 1997. They meet monthly and debate all aspects of the improvement and management of Intaka Island, ranging from education to the heronry, and botany to law enforcement.
Harrison says: "What has been impressive here is that the developer and businesses have seen the value of putting money into it. This ensures that the area is well run and we are able to do something significant for conservation." Money for the management of the wetland now comes from Century City Property Owners' Association which means that, even if properties change hands, continuity is assured.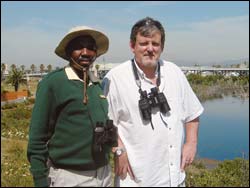 Taking care: Security guard and guide at Intaka Island Sikhumbuzo Mbewu, left, with James Harrison of the Avian Demography Unit at UCT.
The ADU has been monitoring the bird populations at Intaka Island since 1997 and has been able to document the remarkable recovery of the system since the commencement of development.
In fact, Intaka Island is considered such an asset that photographs of it are frequently used in promotional material on Century City. A UCT student, Catherine Wynn-Jones, recently made Intaka Island the subject of her thesis for a Master's in Economics, quantifying the effect of green areas on property prices and the public's attitude towards Century City.
One of the major challenges has been to get waterbirds to return to Intaka Island as the original heronry was destroyed to make way for four constructed wetlands. The BEC's plan was to get back to at least 10% of the original number of nesting pairs within 10 years. This year, that milestone was achieved and exceeded in the constructed heronry.
Initially, the birds showed no signs of wishing to return to a constructed heronry set up on the shore of the vlei, even though some decoy birds were specially created and positioned to encourage them. Then a unique design devised by the Century City's environmental officer, Deon Weyers, hit the spot. This design comprises a wooden island with a naturalistic structure, surrounded by water.
These have been dubbed Weyers Islands and they appear to provide ideal conditions for breeding waterbirds which began to return in numbers as soon as the islands were built.
Margaret Maciver (a member of the committee) said she was "astounded" by the most recent October count, which found 391 nests on the islands, among them Grey Heron, Blackheaded Heron, Darters, Reed Cormorants, White-breasted Cormorants, Cattle Egrets, Little Egrets and Sacred Ibises.
"This does not include nests deep inside the islands that I can't see, and the birds are still flying in with nesting material!" she wrote.
In fact, the islands have become so popular with the birds that they have run out of room, evidence says Harrison that there is a shortage of space in the Peninsula for nesting waterbirds. Weyers Islands are a relatively inexpensive, low-tech solution with excellent potential to be deployed elsewhere.
The system of constructed wetlands also functions successfully to cleanse processed sewage effluent from Potsdam Sewage Works, and make it fit for use in the network of canals at Century City. As such, Intaka Island is a sterling example of water conservation and recycling.
Intaka Island is not only for the birds, though. A concerted effort has gone into restoring the vegetation and preserving the original seasonal pans surrounded by fragile and highly-endangered Sand Plain Fynbos. Through the efforts of Weyers and botanist Dr Clive MacDowell, a graduate of UCT, Intaka Island is now home to 190 locally indigenous plant species, which were rescued from the site or brought in from neighbouring areas, including 10 Red Data species.
In spring, this tranquil spot offers a little taste of the colourful display that can be found up the West Coast. A neat system of pathways and boardwalks allows visitors to view the birds close up, and a bird hide on the water gives a grandstand view of the packed nesting islands. The intention is to encourage the people of Cape Town to enjoy, as an educational and recreational amenity, what is now a "green lung" in a rapidly burgeoning area of development.
An additional fillip has been the enthusiasm with which the two security staff assigned to the area, Bennet Freeman and Sikumbuzo Mbewu, have embraced the new environmental mantra. Employees of Securicor, they are poised to do environmental guiding courses which will further enhance their skills, and they are becoming dab hands at identifying plant and bird species for visitors.
* Visitors are welcome. Intaka Island is open from 08h30 to 17h00, seven days a week, including public holidays. The entrance fee is R5 per person. For directions, you can view a map on the website at www.intaka.co.za.
---
This work is licensed under a Creative Commons Attribution-NoDerivatives 4.0 International License.
Please view the republishing articles page for more information.
---