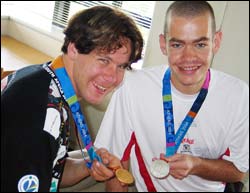 Gearing up: Paralympic 800m gold medal winner Malcolm Pringle (left) with his 23-year old coach Ross Tucker, a PhD student at the Essm. (Pringle has won three gold medals for the 800m in the Paralympics [2004, 2000 and 1996], three silver medals [1 500m, 400m, 1996; 400m, 2004] and a bronze medal [400m, 2000]).
After Paralympian Malcolm Pringle won the 800m gold medal in a world record-breaking 1:58.90 in Athens in September, his coach Ross Tucker was interviewed over the telephone for radio in Cape Town.
"You must be very proud of the young man," the interviewer remarked.
Tucker agreed, but allowed himself a private smile. At 23, the PhD student at the UCT/MRC Unit for Exercise Science and Sport Medicine (Essm) is an even younger man, three years younger than his charge, and the most junior accredited coach in the country.
Tucker has always been naturally curious. He never vacillated about what he was going to do when he left school. As a 13-year old in grade 8 at Vanderbijlpark, he already knew. Tucker had borrowed Tim Noakes' seminal The Lore of Running from the local library. It was not the kind of book one stuffed into a school rucksack to read covertly during maths.
But he was sold.
In grade 11 Tucker says he was fortunate to meet Ian Harries, a local coach at the Vaal Triangle Technikon and coach of the athletics squad destined for Sydney. He had a library of books and from these Tucker began to learn about the rudimentary mechanics of physiology.
Realising his future lay at the Essm in Newlands, he moved to Cape Town and took up an academic berth at UCT. His academic CV is chock full of accolades (Dean's Merit List, MRC local postgraduate scholarship, et al).
Clearly, Tucker is on a mission. Sport science is a means to an end, and not science for science's sake, he says.
"I'm taking the degree so I can coach."
In 1998 he qualified as an Athletics South Africa (ASA) middle- and long-distance coach after completing a level 1 course. Tucker is also an accredited PoseTech coach. The latter is a running technique developed by Nicholas Romanov, a Russian PhD in sport science who developed a novel running technique to reduce injury risk and improve performance. Tucker was only the seventh coach in the world to be accredited in the method.
Building his understanding of how the human body responds to training, his PhD is being supervised by Professor Tim Noakes and promotes the idea of the brain as the central governor in controlling fatigue in athletes.
"Fatigue during exercise is part of an intricately controlled neural process where the brain calculates the capacity of the body to complete an exercise task, without premature fatigue or bodily harm," he explains. Thus the body's homeostasis is tightly regulated, even at the peak of activity.
Speaking from the Essm shortly after arriving back in South Africa after the Paralympics - and with his gold and silver medals bouncing on his chest - Pringle is impressed by Tucker.
"Ross is the best coach I've had. He's taught me about mental pain," he adds thoughtfully. There may be another parallel in here somewhere; one of Tucker's heroes is cyclist Lance Armstrong. "He almost died, but he came back [to win the Tour de France] six times in a row."
Tucker has coached Pringle for the past two years. How did the two get together?
"I'm lucky," Tucker says. "I've known Malcolm since I was an undergrad. I watched him train at the UCT oval."
They also attended the same church. It was a natural association.
With Athens in mind, they had two goals; the first was to win the 800m gold in a world record, the second was to run the 1 500m. But at the beginning of the year this event was cancelled and they had to replan, shifting their focus to the 400m and 200m events. (Paralympic events can only take place if there is a sufficient depth of athletes represented.)
"A week before we left they [the organisers] changed the programme twice," Pringle adds.
Pringle says he prefers having a young coach.
"He understands the pain you're in, so it helps you as an athlete. If I'm not feeling well, he knows what I feel like."
Tucker believes coaching success is being able to understand the small and big pictures, and this is where Harries guided him.
"He taught me how the parts fit together as a whole. For example, there is a template for physical training; there are only so many ways to structure a training programme. How you run it fascinates me as a scientist. But for the mental training there is no template. It's entirely individual. What is oppressive to one person is okay for another."
Tucker says they knew the big picture - they had two years to prepare. Fitting the smaller pieces together was a question of "what do we do today to get there?".
And though both coach and athlete are euphoric post-Athens, Tucker reminds his charge that the World Championships are in two years. And there is also Beijing to prepare for.
The China factor is significant. There are apparently 45 million disabled people in the sprawling country and Tucker believes their athletes will be eager to perform. He's keen to get into the South African Paralympic team as a manager and coach.
"There will be a natural progression by the time Beijing comes around. The standards will be higher and we must train for that."
He's aiming to get Pringle down from 1.58 to 1.56 for the 800m in Beijing. And he's tipping five Asian countries to be among the top five in the medal tally.
"And China is setting the standard."
With a lure of $US50 000 for every gold they bag, the Chinese Olympians and Paralympians' have an added incentive, which is probably why he believes South Africa's Paralympians medal tally is likely to drop from 35 to 25 in Beijing.
He's thus aiming to get Pringle running shorter distances and is working on his speed training. But Pringle is thinking longer term, at least as far ahead as the Paralympics in 2012, hoping to bump up his tally of gold medals to five. A high five.
---
This work is licensed under a Creative Commons Attribution-NoDerivatives 4.0 International License.
Please view the republishing articles page for more information.
---