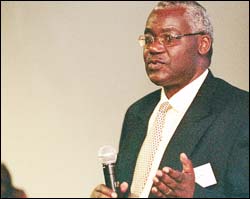 Holding forth: Dr Evariste Mutabaruka, WHO delegate in Zimbabwe, was one of the delegates who attended the recent conference on immunisation held at the IIDMM.
Fittingly, the first conference hosted at the Wolfson Pavillion lecture theatre of the Institute of Infectious Disease and Molecular Medicine (IIDMM), which opened the doors to its new building recently, targeted some difficult issues.
The occasion was a meeting on the introduction of new vaccines into the Expanded Programme on Immunisation (EPI) in southern Africa, organised jointly by UCT. Professor Girish Kotwal, head of the Division of Medical Virology, and Professor Greg Hussey of the Institute of Child Health, played hosts, along with Belgium's University of Antwerp. It is thanks to the dean of the health sciences faculty Professor Nicky Padayachee's long history of collaboration with Antwerp that made this relationship possible.
Gathered were experts from leading South African universities (UCT, Stellenbosch, Wits, Medunsa), the Network for Education and Support in Immunisation (Nesi), the World Health Organisation (WHO), the United Nations Children's Fund (Unicef) and the Global Alliance for Vaccines and Immunisation (Gavi), as well as healthcare practitioners from across Africa.
For three days (October 13-15), the delegates discussed the health, educational and economic implications and hurdles for the introduction of two new vaccines to WHO's EPI initiative. The organisation hopes to include vaccines against Hepatitis B and the Haemophilus influenzae type b (Hib) bacteria, which both strike down millions of children, in its worldwide programme that already targets six other diseases, namely polio, tetanus, whooping cough, diphtheria, tuberculosis and measles. Over the past year, representatives from Nesi have crisscrossed Africa, speaking to doctors, nurses and the like about these new vaccines. As has become the norm at these meetings, issues surrounding financing immunisation programmes, the medical aspects of the new vaccines, and the training needs for medical personnel took up much of the discussion.
Despite all the headscratching, says Antwerp's Dr Christian Goilav, the goal of the gathering was simple. "We want to increase the knowledge of the vaccines and save more children."
Just a pity that the task itself isn't so cut and dried.
---
This work is licensed under a Creative Commons Attribution-NoDerivatives 4.0 International License.
Please view the republishing articles page for more information.
---