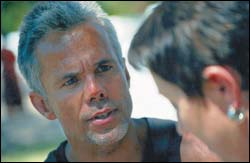 Dr Helgo Schomer - "Didn't William James say: 'The deepest principle of human nature is the craving to be appreciated'? I am solidly human."
After talking to recipients of this year's Distinguished Teacher Awards (DTA), one thing became clear: the lecturers get as much out of the process as their students. This year's group of four DTA awardees are Drs Vanessa Burch (Department of Medicine), Bette Davidowitz (Academic Development Programme and Chemistry), Sagadevan Mundree (Molecular and Cell Biology), and Helgo Schomer (Psychology).
The award recognises the primary role of teaching and learning in UCT's educational endeavour and the awardees' names will be announced at the appropriate graduation ceremony in December. A monetary purse is attached to the accolade.
Monday Paper asked Dr Helgo Schomer what constitutes good teaching. " Beyond just imparting knowledge, teachers need to put more life into their lecturing. They need to bring the discourse of life into their classroom - they need not be afraid to add a bit of sparkle, charisma, passion to their teaching - this binds the learning experience into a positive emotional experience so that students absorb and retain information optimally. Illustrate material with real-life situations and, wherever possible, let the students suggest solutions - even if it demonstrates the limits of our current knowledge and understanding."
Schomer says his own educational experience was a happy one. "I was lucky. I studied at many different universities and in the process experienced many inspirational and motivational lecturers. The one that sticks out was Dr Bruce Faulds at Natal University, a teacher who was not afraid to come face to face with students and their lives. His lectures always concluded in the translation of the knowledge and theories in psychology into relevant, day-to-day situations in life. He stayed with his feet firmly on the ground - choosing to be and act like a 'mensch'."
The DTA is important recognition of skills, he adds. "Didn't William James say: 'the deepest principle of human nature is the craving to be appreciated'? I am solidly human."
Dr Bette Davidowitz - "It means a lot to me to realise that in some small way I have been part of a good learning experience for my students."
The process is also two-way, he says. "When you teach something, you are really testing whether you know your stuff. Our students are bright, alive - they don't easily let you get away with anything unfounded. I love this exchange. We bring knowledge to them; they bring life, challenge and debate to us. This is an essential, mutual point of growth."
Dr Bette Davidowitz, who also received this year's Chemical Education Medal from the South African Chemical Institute, believes a good teacher should guide students during their journey through the university. She e-mailed Monday Paper from the reception of a pension in Slovenia, part of her sabbatical travels.
"Students enter as apprentices and during their undergraduate studies they should attain the status of practitioners in their chosen field." The role of the teacher, she adds, is to erect the appropriate signposts to facilitate this transition.
"A sense of humour, the ability to listen and understand student difficulties and misconceptions are essential characteristics of a good teacher. Above all, the teachers should demonstrate a passion for their subject and should try to encourage their students to take an interest, even if they are registered only for a service course in a particular discipline. My motto is Plutarch's 'The mind is not a vessel to be filled but a fire to be kindled'. My role is to supply the matches."
Davidowitz says she has been fortunate to have had many good teachers. "My best teacher was Dr Ralph Torrington who taught me chemistry during the first year of my BSc. His enthusiasm and passion for the subject, as well as always being willing to help, influenced me to change my field of specialisation from maths and computer science to chemistry. Many years later we worked together as colleagues to develop a laboratory module and I was struck by the fact that even though he was retired and working part-time in the department, his enthusiasm and interest in the well-being of the students was unchanged."
Though she works from the chemistry department, Davidowitz is part of CHED's ADP programme. She regards UCT as one of the foremost tertiary institutions in southern Africa. "Thus I am very honoured that my contribution to teaching at UCT has been recognised. It means a lot to me to realise that in some small way I have been part of a good learning experience for my students."
---
This work is licensed under a Creative Commons Attribution-NoDerivatives 4.0 International License.
Please view the republishing articles page for more information.
---