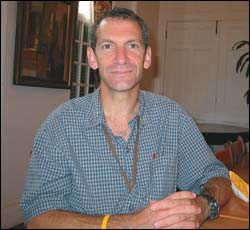 Assoc Prof Roy Colven.
With the assistance of a Fulbright grant, a pilot project is set to enhance the delivery of dermatological care in relatively remote areas of South Africa.
Principal investigator and University of Washington (UW) associate professor of medicine Roy Colven hopes to establish a teledermatology network linking UCT to outlying primary care health facilities, providing critically needed consultation for underserved South African patients suffering from skin diseases.
"When a basic health provider needs help with a skin-diseased patient whom they are seeing, referral to a dermatologist is often impossible owing to distance and a lack of funds to travel," Colven explained.
"Teledermatology utilises convenient and inexpensive store-and-forward (SAF) technology and involves capturing images of patients with a digital camera and transmitting these electronically to a specialist who can render an opinion."
A dermatologist experienced in teledermatology (Colven himself initially) will then review these images and provide an opinion, with feedback and references, to the primary provider within 24 to 48 hours.
"Despite the lack of speciality health care, IT continues to grow and reach more people, including those in sub-Saharan Africa," noted Colven. "Even basic health centres have the ability to upload and transmit images, accompanied by clinical data, via the Internet. It is in these areas that the provision of teledermatology services could have its greatest impact."
With experience using similar technology for telemedicine in the United States, Colven is confident of the project's success.
"The application of telemedicine is especially useful in the visually orientated specialities, particularly radiology, pathology and dermatology. The initial plan is to set up sites identified with the Medical Research Council in the Limpopo Province, the Transkei and closer to home in George. I hope to include another five sites by the end of the year."
Colven will also explore the feasibility of extending this network to other parts of South Africa and countries in sub-Saharan Africa.
In addition, he would like to establish sister-institution ties between UCT and UW through the virtual exchange of instructive patient cases and interactive distance learning.
"Eventually, exchange rotations will be established to enable UCT and UW dermatology trainees to learn directly from the sister institutions. I also want to use the experience gained in this study to establish similar telemedicine systems in other underserved regions in the US."
Because of the skin's role in immunologic protection, Colven says it is not surprising that studies have shown at least 90% of HIV-infected patients will develop skin diseases during the course of their infection.
"A skin condition is commonly the first sign of HIV infection. Once HIV infection has been established, the kind and number of cutaneous diseases are a gauge to the stage of infection."
With only one dermatologist serving three to four million people in South Africa's public health care sector, Colven believes the results of the study will provide valuable information on the satisfaction with and feasibility of this IT-based solution.
"The results of this project will hopefully demonstrate a decrease in morbidity and mortality from skin disease through the delivery of dermatological care to South African patients who would otherwise not have received such care."
---
This work is licensed under a Creative Commons Attribution-NoDerivatives 4.0 International License.
Please view the republishing articles page for more information.
---