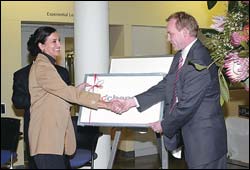 Milestone: Unveiling the centre's new name were Prof Cheryl de la Rey, left, and Prof Jack Fletcher.
The DST-NRF Centre of Excellence in Catalysis, hosted by the chemical engineering department at UCT, was officially launched by vice-chancellor Professor Njabulo Ndebele recently, providing an opportune time to spotlight the centre's new name: c*change: the DST-NRF Centre of Excellence in Catalysis.
The centre is one of two hosted at UCT (the other is in biodiversity conservation and hosted by the Fitztitute, headed by Professor Morne du Plessis) and one of six National Centres of Excellence, announced by the Minister of Science and Technology, Mosibudi Mangena, in June this year.
These centres have their roots in South Africa's National Research and Development Strategy, as adopted in 2002. The initiative was designed as an additional route for fostering scientific research and development within the tertiary education sector.
In addition to its scientific focus on chemical transformations, the catalysis centre will serve as an agent of change for the development of a new generation of research leaders, said its head, Professor Jack Fletcher.
Commenting on the new name, Fletcher said the use of the "c" signified "catalysis" and "centre", but in association with the word "change" embraces the interchange or meeting point where various elements (ideas, disciplines and people) join to create a new platform for attaining the programme's goals.
"The result is a dual meaning and an overt play on 'sea change', Shakespeare's sweeping synonym for transformation, which resonates well with the action of catalysis," Fletcher said.
Catalysts are perhaps best illustrated by automotive emission control catalysts, fitted into vehicle exhaust systems, which eliminate noxious emissions from cars. Although not yet generally applied in South Africa, current technology fitted to new cars in the US, Europe and Japan remove more than 95% of all three key noxious emissions (nitrogen oxides, carbon monoxide and volatile organic compounds).
---
This work is licensed under a Creative Commons Attribution-NoDerivatives 4.0 International License.
Please view the republishing articles page for more information.
---