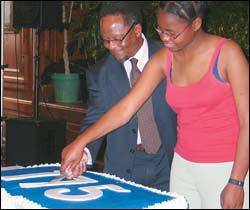 A slice of history: "Happy birthday UCT!" This was vice-chancellor Prof Njabulo Ndebele's final salutation as he cut the birthday cake in the Jameson Hall on Friday October 1, eliciting not only cheering and whistling, but hundreds of blue and white balloons that rained down from the ceiling.
In an interview with the Monday Paper, Vice-Chancellor Professor Njabulo Ndebele reflects on the 175th anniversary and what lies ahead for UCT.
MP: What has been the highlight of this year's 175th anniversary?
NN: I have been heartened by the manner in which the entire university has taken up the challenge to celebrate 175 years, while also using it as an occasion to reflect on where we have been and where we are going.
I have pleasant memories of the launch that took place at Jameson Hall. It was a memorable, festive occasion greatly enjoyed by all who attended. The launch involving students also reflected just how much the entire university had embraced the 175th anniversary. Since then, we have had a full schedule of 175 anniversary activities covering music, photography, sports and a major art exhibition is in the offing.
I love the faces around campus that have become a visual symbol of UCT's diversity. I am very fond of those faces. They give us a very good sense of the human environment at UCT since it was established.
MP: What about the African Leadership Award on November 4?
NN: November 4 will be a major, historic event for UCT when we host President Thabo Mbeki at UCT on his first official visit. In line with our strategic objective to deepen our role in Africa, it is most apt that we express our appreciation of the President's effective leadership in Africa.
His leadership comes at a time when Africa needs to focus on itself, but from the position of optimism.
In other words, Africa's understanding of its problem is the basis on which the continent can recreate itself. In this regard, it is clear that President Mbeki focuses on poverty eradication as the very principle of development. This approach enables us to base our optimism for Africa's future on the realistic prism of our actual conditions. Chancellor Graça Machel will award UCT's inaugural Chancellor's Award for Outstanding Leadership in Africa.
President Mbeki's visit is important in two other ways. We will also be launching a scholarship programme, in conjunction with the Mandela Rhodes Foundation, that will be called the Thabo Mbeki Scholarship for Leadership in Africa. This scholarship focuses on building leadership capacity in Africa. These goal's coincide with UCT's own vision and role in this regard.
Lastly, President Mbeki will deliver the inaugural lecture of the Association of Commonwealth Universities Distinguished Lecture Series. In this lecture, we anticipate that the President will speak on the revival of the African university. In this, he could lay the groundwork for a major collaboration on behalf of African higher education, which desperately needs friends at the highest levels in Africa and in the world at large.
MP: What do you believe UCT's strengths are?
NN: A major strength of UCT is its strong tradition of scholarly excellence in research, teaching and social responsibility. Over the years, this has been shown in the quality of graduates who have come out of UCT, and who have gone on to make a major leadership impact in their work.
We maintain our strength as a university with the highest concentration of A-rated scientists in the country. We continue to enjoy an enviable international reputation. This speaks to the quality of our academic staff and also to the quality of our professional, administrative and support staff, and our ability to attract quality students from diverse backgrounds.
One of our abiding strengths is our stable workforce. On average, people do stay at UCT for a long time. This is positive in the total scheme of things, but can pose a problem from the perspective of how fast we can change the demographics of the university. What it does suggest is that when we do get a diverse population of highly talented teachers, researchers and PASS staff, the chances are that they will stay longer. They will ensure that our traditions of scholarship will remain firm as we tackle new academic and intellectual challenges. I think this is a very important strength of UCT.
MP: And what are the challenges?
NN: We have to continue to strengthen our relationships in Africa. Beyond that we have to explore new opportunities by growing relationships between South Africa and such countries as India, Brazil, Indonesia; democracies deeply rooted in our Third World realities. We need to develop and deepen those relationships.
I think South Africa and the countries I have mentioned are increasingly more confident about what they have to offer the world. The trend is that we will have more home-grown value to offer and will emulate others less and less in a context of drastically altered relations of power in contemporary world history.
In other words, UCT should aspire to be best at what we are in Africa, rather than aspire to be a replica of successful institutions elsewhere. Ironically, the universality of our impact lies precisely there. I see our confidence as an institution with a global profile increasing steadily. In that way, we are part of the story of South Africa's maturing democracy.
Universities, of course, pride themselves on being critically engaged with their societies. Our value to our society, as a university, will be the extent to which we are able to engage with the issues of our time, with commitment and fidelity to our research and our findings and the implications thereof, and in our courage to articulate ideas and their implications, which may not necessarily be popular. As we do that, we have the responsibility also to produce the best graduates. I think our historic value lies in these things. In the final analysis, that is what universities are there for. Our reputation should always stand on that.
MP: What is your wish for UCT 175 years from now?
NN: I hope that 175 years from now UCT will still be one of Africa's deepest springs of knowledge, leadership, and learning, and that when the history of UCT is written in 175 years, we will have retained and deepened our reputation as a place of choice for many students in Africa, as well as attracting talented students from other parts of the world, always ensuring, of course, that all our efforts remain founded on a total commitment to our own country.
---
This work is licensed under a Creative Commons Attribution-NoDerivatives 4.0 International License.
Please view the republishing articles page for more information.
---