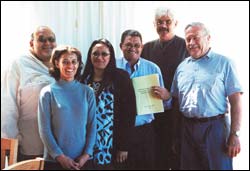 Mission complete: Those that worked to develop South Africa's first tertiary curriculum for training assistant probation officers include (from left) Patrick Smith (UCT), René du Plessis (UCT), Ruwayda Carloo (PAWC), Dr Stan de Smidt (PAWC), Coenie du Toit (deputy director , Social Crime Prevention and Probation, national Department of Social Development), and Dr Roland Graser (UCT).
The first curriculum developed by UCT's social development department for training assistant probation officers has been handed over to the national Department of Social Development. The two-year course is the first of its kind in South Africa and a novel development in the history of probation practice internationally.
The curriculum will be circirculated to all relevant institutions for their comment. It is anticipated that once it has been approved by the South African Qualifications Authority (SAQA), it will be introduced at training institutions throughout the country. The programme will train up much-needed assistant probation officers to ease the load of probation workers in the correctional services.
Its development was underwritten by a R1-million grant from the Department of Social Development, which covers a total of five programmes in probation practice (including a BSocSc degree) as well as the appointment of a lecturer in the field for a year.
The drafting of the curriculum was very much a collaborative team effort, headed by a task team with UCT's Dr Roland Graser (project convenor), colleague Patrick Smith and the Provincial Administration of the Western Cape's Ruwayda Carloo and Dr Stan de Smidt (Department of Social Services and Poverty Alleviation).
"As we have also paid attention to other aspects of the contract with the national department, the assistant probation officers programme had taken us eight months to develop, including a national consultation workshop with probation coordinators from all the provinces," Graser added.
The undergraduate certificate qualification's birth comes against the background of stark statistics in a country that has experienced a disquieting increase in crime and delinquency. Prisons are overpopulated by 156%.
"Of particular concern is the detention of awaiting-trial children," said Graser in his report. "We realised there was an urgent need to develop the occupational category of assistant probation officer to help address the problem of delinquency and manage the situation more humanely."
The need for assistant probation officers had been mooted by the Probation Advocacy Group since the 1990s. But lack of training meant that candidates were mostly at sea, lacking proper grounding in the theory, concepts and propositions underlying probation practice. In addition, amended legislation (Probation Services Amendment Act No 35 of 2002), requires these officials to fulfil specific probation tasks competently.
"Candidates need knowledge-guided practice," Graser added, "a familiarity with a host of related principles, focusing on the nature and manifestation of crime in South Africa, assessment and intervention of cases, criminal law, restorative justice, the criminal justice system, the courts, the prisons and non-governmental organisations active in criminal justice, as well as the services, structures and resources in probation practice.
"These officers must learn what motivates them to act antisocially. And in a multi-cultural society like South Africa, it's important assistant probation officers are able to relate to the cultural context they operate in. This is vital when presenting community-based programmes," Graser noted.
The two-year curriculum thus offers occupation-specific training, developed in consultation with the Department of Social Development.
In addition to the practical components and field practice modules each year, modules in the first year include:
probation practice and probation practitioners;
crime and South African society;
assessment and intervention, and;
values and principles of probation practice.
Second-year modules cover:
crime prevention policy and practice;
policy and legislation;
the criminal justice system, and;
service structures and resources in probation.
Applicants need a grade 12 qualification or the equivalent.
"We believe this curriculum represents a milestone in the transformation and professionalisation of probation practice," Graser added.
---
This work is licensed under a Creative Commons Attribution-NoDerivatives 4.0 International License.
Please view the republishing articles page for more information.
---