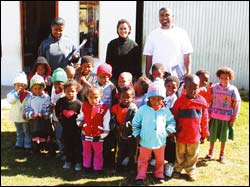 Reaching out: Dietetics student Harlan van Wyk (back) with children and teachers from one of the Overberg crèches the Division of Nutrition and Dietetics called on during their recent feeding assessment in the region.
Students and staff in the Division of Nutrition and Dietetics are putting their efforts where some hungry mouths are.
Recently, lecturers took their honours students on the division's annual outreach expedition to the Overberg area, the vast rural region that stretches "from Worcester to Swellendam, and everywhere in-between", according to lecturer Aila Meyer.
The division has been staging the trek for some years. Students stop over at certain crèches within the region, where they weigh and also measure the height of the children to check for short-term or chronic under-nutrition (and obesity, a rarity in the holiday-mecca's poverty-stricken quarters). They also assess the nutritional adequacy of the meals served at these crèches.
The project has snowballed over time, says Meyer. This year, it took the division to 12 crèches at which they recorded the details of some 400 children.
The crèches used to be funded by the Department of Health, but are now funded and managed by the Department of Social Services. The UCT findings will shortly be passed on to both these departments (as well as the Overberg communities). The health department wants to make sure that their feeding programmes at the crèches meet the children's needs, while social services needs to know if the conditions at the venues have been maintained under their authority.
For UCT, it gives the students some valuable practical experience "in the field". "It's also just very good for students to see what's happening out in the rural areas," says Meyer. "And it's a way for us to give back to the communities."
The division gave in a different way when staff (and their families) and students took to the road for the annual Blisters for Bread Family Fun Walk in late August. The event benefits thousands of disadvantaged primary school children in the Western Cape who receive aid from event organisers, the Peninsula School Feeding Association (PSFA). Nutrition programmes targeted at children are a fundamental part of the community-nutrition dietetics curriculum, and the PSFA's initiatives are wholeheartedly supported by the UCT division, says Meyer.
The UCT division didn't just put their own soles on the line. They also challenged staff and students from their sister departments at the universities of the Western Cape and Stellenbosch to walk their talk.
---
This work is licensed under a Creative Commons Attribution-NoDerivatives 4.0 International License.
Please view the republishing articles page for more information.
---