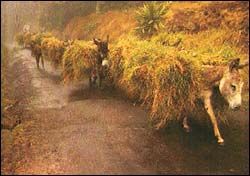 Donkeys carrying flax for thatch roofing on Tristan da Cunha.
The award-winning Working for Water programme has been enormously successful in meeting its goals of increasing water yields from catchments and conserving South Africa's unique biodiversity heritage through clearing invasive alien vegetation. As part of the Expanded Public Works Programme, it also aims to train and uplift previously disadvantaged people and communities. Here, too, it has been successful, although there have not always been sufficient employment options for people trained through the programme, especially if they wish to remain in alien clearing.
Now the programme is spreading its wings, albeit on a very limited scale. Two of its highly-skilled personnel have been employed to help tackle an invasive alien plant problem at Tristan da Cunha, a British Overseas Territory in the central South Atlantic Ocean. Lourence Chiloane and Given Moremu are two of the most experienced high-altitude specialists working in the Mpumulanga section of Working for Water. They are used to cutting trees while dangling from ropes along the eastern escarpment of South Africa. But they have sailed for Tristan da Cunha to tackle New Zealand flax (Phormium tenax) on uninhabited Inaccessible Island.
Together with Peter Ryan from the UCT's Percy FitzPatrick Institute and freelance alien eradicator Jaco Barendse, they have joined the 50th Gough Island expedition team, that headed west on the South African Antarctic supply ship, the SA Agulhas. Thanks to logistical support from the Department of Environmental Affairs and Tourism's Antarctic Directorate, the team have been flown ashore at Inaccessible Island with all the equipment and provisions necessary to remain on the island for three weeks and to remove all existing flax plants from the island. They will be joined on the island by Tristan islander Nigel Lavarello.
Aptly named Inaccessible Island, one of three main islands in the Tristan da Cunha archipelago, it is one of the least-disturbed temperate oceanic islands in the world, with no introduced mammals and only a handful of introduced plants. In addition to supporting vast numbers of breeding seabirds, it is home to the Inaccessible Flightless Rail, the smallest flightless bird in the world. Because of the island's biodiversity importance and scenic beauty it was added to the Gough Island World Heritage Site in 2004, one of only two British Natural World Heritage Sites. The island's management plan, published in 2001, identified the removal of introduced flax as the top conservation priority, and funding for the removal was made available by the UK Foreign and Commonwealth Office in 2002. But it required the specialist skills of the Working for Water team to make an attempt to remove the plant feasible.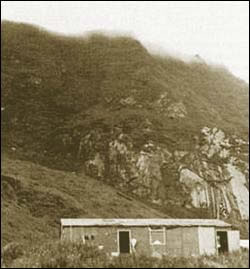 The Derstone College Expedition hut
Flax was introduced to Inaccessible from New Zealand via the main island of Tristan, where it was brought to thatch houses and create wind-breaks. It probably has been on Inaccessible since the island was briefly "colonised" from Tristan in the 1930s, but fortunately it remains reasonably localised, confined mainly to a section of near-vertical sea cliff adjacent to The Waterfall. However, this position seems set to change unless urgent action is taken. Between 1990 and 2000 the population is estimated to have increased almost 10-fold, possibly linked to climate change, and so there is a need to act now if the plant is to be controlled and eventually eradicated.
Using a combination of direct removal of small plants and cutting and spraying large plants, all existing plants should be removed during the planned visit. It will then require several follow-up visits to ensure that all seedlings are removed, but it is hoped that by 2010 the island will be free of flax entirely.
It is Ryan's sixth visit to Inaccessible Island. Barendse has spent several months tackling another alien weed on Gough Island. But for Chiloane and Moremu this has been their first trip to sea. If this trial proves successful, it is conceivable that South Africans, trained through the Working for Water programme, will be able to obtain contract employment on specialist alien removal exercises at Tristan, Gough and perhaps even St Helena and Ascension.
Tony Poulter, the regional programme leader for Working for Water in Mpumalanga, hailed the partnership, saying that these opportunities for trained workers builds experience and boosts self-belief among the previously marginalised. He thanked Ryan and all those involved for their commitment to transformation, in choosing the Working for Water specialists.
---
This work is licensed under a Creative Commons Attribution-NoDerivatives 4.0 International License.
Please view the republishing articles page for more information.
---