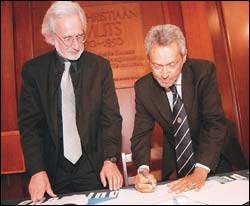 New friends: UCT's Prof Martin Hall (left) and Prof Roberto Grandi of the University of Bologna sign a memorandum of agreement between the two institutions.
UCT signs memoranda of agreement with other universities as a matter of course. Rarely, however, is the occasion celebrated with such gusto as the inking in Smuts Hall last week of an accord between UCT and the University of Bologna in Italy.
The agreement commits the two universities to an exchange of researchers and students over coming years. "It's a concrete expression of intent on which we can build quite a lot," said Lara Hoffenberg of UCT's International Academic Programmes Office.
The two institutions have much in common. UCT is staking its claim as the oldest university in South Africa as it marks its 175th anniversary this year, while Bologna can trace its roots all the way back to 1080 and is widely held to be the oldest existing university in the world. The Italian university has other ties to South Africa - in 1988 it awarded Nelson Mandela an honorary degree in political science. "It was just strange not to have a relationship with a university in such an important country as South Africa," said Professor Roberto Grandi, vice-rector for international relations at Bologna, of the collaboration.
Grandi was part of an envoy - politicos, business folk, academics - from Emilia-Romagna, the region in northern Italy where Bologna is situated, visiting UCT last week. At the rah-rah signing of the agreement in Smuts Hall, these delegates met up with UCT scholars and executives and other guests. The event's spread was sponsored by the visiting group and Consul Alberto Vecchi of the Italian Consulate in Cape Town.
To make sure that the occasion would be a toast to all things Italian, the group even flew in two Italian chefs who brought with them a hunk of Parma ham (namesake of another tourist mecca in the Emilia-Romagna region) and cooked up a storm in the Smuts kitchen. In turn, UCT's Professor Angelo Gobbato and some of his talented students from the School of Opera lay on the entertainment with pieces from La Traviata, performances that brought down the house and had some fearing for Smuts' stained glass windows. Bellissimo seemed the only superlative, observed guests, to sum up the evening.
---
This work is licensed under a Creative Commons Attribution-NoDerivatives 4.0 International License.
Please view the republishing articles page for more information.
---