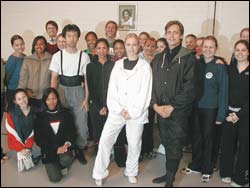 Students at the UCT School of Dance were treated to the Brad Pitts and Jennifer Anistons of the ballet world when they worked alongside internationally acclaimed ballet stars, Hiranao Takahashi and Desiré Samaai from the Northern Ballet Theatre in the UK and Agnes Oaks and Thomas Edur from the English National Ballet.
To celebrate its 70th birthday, Cape Town City Ballet (CTCB) will present the world premier of Queen at the Ballet, which opens at the Artscape Opera House on September 30 and runs until October 9.
Acclaimed choreographer Sean Bovim returns after his huge success with Swing Time at the Ballet last year to stage and produce his most ambitious work yet.
The premier of Queen at the Ballet will showcase the diverse talents of the CTCB, incorporating various dance styles, spectacular visuals and the incredible sounds of one of the best-loved rock groups, Queen. Accompanied by the Cape Philharmonic Orchestra and special guests, vocal artists Duncan Royce, Luciano Zuppa and Zanne Stapelberg, the production will take audiences on a nostalgic and up-lifting journey through music and dance.
According to CTCB publicist Andrew Warth, Capetonians can be prepared to be left breathless by the sheer size of the show, the shimmering costumes, slick, fast-paced choreography and foot-tapping music.
Bovim received a BA in speech and drama at Rhodes University before moving to Cape Town, where he completed a performer's certificate in ballet at the UCT School of Dance. He was immediately accepted into the then CAPAB Ballet Company and danced many roles in works by Veronica Paeper, Erica Brumage, Rudi van Dantzig and Christopher Kindo.
His career has taken him all over the world and he has performed in Austria, Italy, Denmark, Israel, Botswana and the United Kingdom. His ballet, Scaffolding, has been revived three times by CTCB and his ballets Sven's Cupboard, Zoo Biscuits and Cicadas have all been revived twice by the State Theatre Dance Company.
In 1999, Bovim won the National Choreographic Competition with his work With Disregard to the Rules.
---
This work is licensed under a Creative Commons Attribution-NoDerivatives 4.0 International License.
Please view the republishing articles page for more information.
---