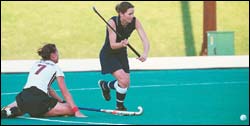 Getaway: UCT couldn't quite trump Maties this season, but even in a 0-5 defeat in the season-closer, players like Jess Glass (right) showed they could match their Stellenbosch rivals.
They, along with everyone else, were overshadowed by the University of Stellenbosch this year, but the UCT women's hockey first team is nonetheless a very chirpy outfit.
And why shouldn't they be? The side did after all meet both of their goals for the season. First they won the B section of the South African Student Sports Union tournament hands down, earning themselves a rightful place among the bigwigs in the A division in 2005. Then despite three defeats to Maties - put it down to lots of unbecoming, soft goals - they also took second place on the Western Province Grand Challenge log, falling 24 points short of Maties but a good 13 points clear of Western Province Cricket Club. (And they did so without their South African caps Kerry Bee and Liesel Dorothy, who joined the Olympic squad just three or so games into the season.)
And UCT would have given Maties a few sleepless nights had it not been for a brief slump shortly after Bee and Dorothy left. A goal spree over its first games was followed by a few defeats and draws that saw the side fall well behind the log leaders. But that barren period was true to UCT form over the past couple of years, says captain Natalie le Brun. "In the years that I've played for UCT, we've always had a really good start. Then we have a little dip before we find our feet again."
According to Le Brun, a number of factors have contributed to the season's successes - a settled squad (many of whom played for Western Province sides this year), plenty of pre-season training, and an outstanding coach in Charlie Stuart whose encouraging SMSs kept the players in good spirit. "He's made such a huge difference to the side," Le Brun notes. "His enthusiasm and his knowledge of the game is just incredible, and he brings such an extra dimension to the coaching."
Stuart and his squad will have their work cut out for them in the 2005 season. After finishing third in 2003 and second this year, the next step must surely be to weaken Maties' stranglehold on the WP trophy.
And even in a 0-5 rout in the season-closing outing against Stellenbosch - again those soft goals, including two in the final five minutes of the match - there was much to be optimistic about. UCT failed to score, but the side regularly exposed weaknesses in a Maties defence that's let in only two goals in a 17-game season (they netted 80).
"One of our goals today," said Le Brun after the match, "was just to put a little bit of doubt in Maties minds as to the future of UCT hockey. We're backing ourselves for good results next year." Don't bet against them.
---
This work is licensed under a Creative Commons Attribution-NoDerivatives 4.0 International License.
Please view the republishing articles page for more information.
---