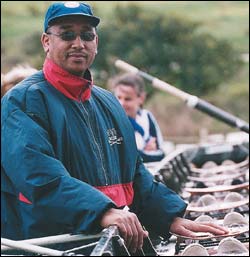 All Hart: Keith Hart hopes to spur on the South African rowers with his infectious enthusiasm when he joins them for the World Student Rowing Championships in France.
Before he joined UCT sports administration in 1996, Keith Hart had very little to do with rowing.
And even in those early years with sports administration, he mostly just carted the UCT boats around the country for students whenever they competed in races. But that was a long time ago. These days he still hauls the boats to faraway venues, but he's also very involved in other aspects of the sport. He officiates, sets up courses, and even does a little bit of rowing himself. He also coaches a UCT development team - a very good one at that - drawn from school kids in Grassy Park.
His work soon caught the eye of sport authorities. In 2002, for instance, he was appointed to the transformation and development portfolio in the WP Rowing Association's executive committee.
Recently, a new honour was heaped on him when he was selected as part of the management team to accompany the 20-strong South African squad to the World Student Rowing Championships in France in September. (Sadly, no UCT students have made it into the national outfit.)
It's all come a bit out of the blue for Hart. For one, he doesn't see himself as the most competitive rowing manager around. "But it's my drive, passion and enthusiasm for the sport that infects others," he says.
The September competition marks Hart's first time in France, and his first world championships. But he's sworn that he's going to do the rounds while there. So he hopes to set up liaisons with other managers and coaches, networks that will, if he has anything to do with it, stand his development work in good stead. "This is a mammoth opportunity for me."
And for his young development rowers, who will soon reap the benefits of their coach's broadening horizons.
---
This work is licensed under a Creative Commons Attribution-NoDerivatives 4.0 International License.
Please view the republishing articles page for more information.
---