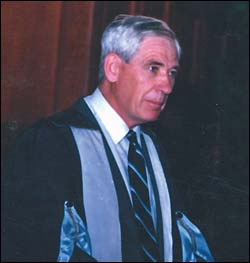 Prof John Reid. (Photo courtesy of UCT Manuscripts and Archives.)
Former deputy vice-chancellor and physiology professor John (JVO) Reid died earlier this month in Plettenberg Bay. Reid joined UCT in 1981 and often stood in as acting vice-chancellor for Dr Stuart Saunders during a tumultuous time in the country's history when tensions between the state and UCT often ran high.
In September, 1988, when Vusi Khanyile, special assistant to the vice-chancellor, escaped from detention (along with Murphy Morobe and Mohammed Valli), Reid spoke out in the press against the "abhorrent practice" of detention without trial and called for an end to the state of emergency. And when law student Willie Hoymeyr was detained, Reid denounced the move as "a tragedy".
"We shall not make forward progress in South Africa until the lesson is learned that order cannot be brought with injustice," Reid said in a statement at the time.
He locked horns with the Minister of National Education, FW de Klerk, after the latter's threat in parliament to act against "anti state" activities on English language campuses.
"The government and universities should discuss their differences over student discipline, rather than have the state issue unilateral demands," he said.
Born in Benoni and educated at St John's College in Johannesburg and Oxford University, he attained BA (Hons) in 1949, his MBChB in 1952, and an MA in 1971. Reid also received numerous awards, scholarships and prizes, including the Gertrude Tomlin Scholarship to Oxford (1946-49) and Radcliffe prizes in pathology, surgery and medicine.
But it was not all work for the multi-faceted scholar. While at Oxford, Reid proved to be a talented rugby player, captaining the Oxford Medical School First XV from 1951-52. He was capped for two seasons for Oxfordshire in the County Championship. He also captained his college tennis team and was a member of the cricket club.
He was awarded membership of the Royal College of Physicians, London, in 1957 and Fellowship in 1972. In 1978 Reid was appointed to the South African Medical and Dental Council.
In 1964, he won the Travelling Fellowship in Education by the Commonwealth Travelling Fund of New York, gaining broad experience at medical schools in Jamaica, the US, Japan, Hong Kong and Malaysia. From 1965-66 he was Visiting Scientist at the National Institutes of Health in Washington. He also served as adviser to the Lesotho government on medical education and had numerous publications in local and international journals.
A professor of physiology, Reid joined UCT as a deputy principal on January 1, 1981, from the University of Natal where he was dean of medicine. He retired from UCT in 1991 after more than a decade of distinguished service in his roles as teacher, researcher, administrator and orator. While serving as a DVC at UCT, Reid was responsible for academic administration, information technology, the library and space management.
At Reid's retirement, Saunders described him as a man of "great sincerity and commitment who would be missed a great deal".
Saunders said Reid had been "unique" among young doctors at Oxford because he insisted on undergoing every investigation and test that he performed on his patients, some of these risky and uncomfortable. Saunders continued: "He is a member of that band of scholars who have been able to make a truly original observation and this was the identification of the 'floppy' mitral valve, a human syndrome which has proven to be of great importance. Both of these facts underlie his keen, open mind, his capacity for lateral thinking and his integrity, which together with his considerable, all-round ability make him such a valued colleague."
Former vice-chancellor Dr Mamphela Ramphele was one of Reid's students at Natal University medical school. He taught physiology in her second year and she paid tribute to him at his farewell for the impact he had made on her and her fellow students.
"He was a wonderful, creative teacher whose focus in teaching was on students' way of thinking about their subject rather than on details."
Reid and his wife, Louise, moved to Trinity Farm near Plett after his retirement, fulfilling a long-held dream of establishing a place where he and his brother and sister and their spouses would live in separate homes, leading independent lives, but sharing companionship and support. On the farm he was also able to pursue one of his particular interests: growing ericas and fynbos. The Reids also became involved in projects designed to assist people living in nearby informal settlement.
Registrar Hugh Amoore remarked: "John was one who lived a good man's life and enriched all of ours." Reid leaves his wife, a gifted and prolific artist, and children Susan, Catherine, Steven (a doctor who studied at UCT) and Matthew, and their families.
---
This work is licensed under a Creative Commons Attribution-NoDerivatives 4.0 International License.
Please view the republishing articles page for more information.
---